Congo Republic Leader Seeks to Extend 18-Year Rule in Vote
The Republic of Congo held a presidential election on Sunday that will probably extend the 18-year rule of Denis Sassou Nguesso.
Eight other candidates were vying for the presidency of the oil-producing central African nation, including a former armed forces chief of staff, Jean-Marie Mokoko, and Guy Brice Parfait Kolelas, who led protests against a referendum last year that enabled Sassou Nguesso to run for a third consecutive term.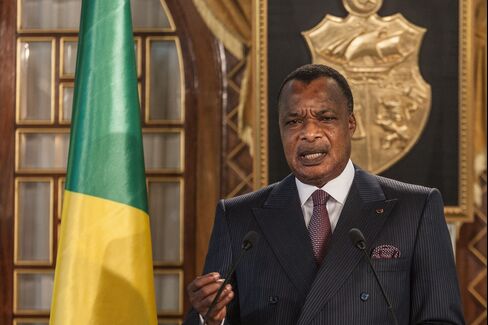 Polling stations were open from 7 a.m. to 6 p.m. Authorities said Saturday that all Internet and mobile-phone communications would be blocked Sunday for security reasons.
As many as 2.1 million voters were eligible to cast a ballot, or slightly less than half the country's 4.5 million population. Five opposition parties have set up a joint parallel commission meant to prevent electoral fraud, sending opposition supporters to the 5,000 polling stations nationwide.
Sassou Nguesso led the country from 1979 to 1992 and then returned to power at the end of a civil war in 1997. He was elected in 2002 and 2009 in votes disputed by the opposition. The country is dependent on oil revenue, accounting for 56 percent of gross domestic product in 2014.
Before it's here, it's on the Bloomberg Terminal.
LEARN MORE