Why Is the Dollar Plunging? Look at the Real Yield Gap: Chart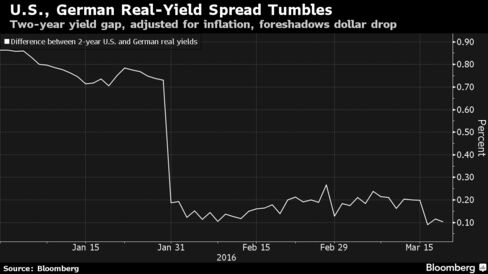 The apparent breakdown of interest rates as the driver of the dollar's value can be explained by adding inflation to the calculation, according to Daniel Katzive, head of foreign-exchange strategy for North America at BNP Paribas SA. The greenback has declined 4 percent against the euro since the beginning of February, while the gap between U.S. and German two-year yields rose 0.09 percentage point in the span. But adjusted for inflation, the spread shrank 0.60 percentage point, helping to explain why dollar-denominated assets have become less attractive.
Before it's here, it's on the Bloomberg Terminal.
LEARN MORE