Slippery Banknotes Become Latest Problem for U.K. Lenders
New polymer bills will require replacement of cash machines

'Every bank has a polymer note project team' working on issue
As they grapple with shrinking profitability and the threat of a British exit from the European Union, the U.K.'s banks also face another challenge: slippery banknotes.
Lenders from HSBC Holdings Plc to Royal Bank of Scotland Group Plc are working to upgrade or replace thousands of cash machines before the Bank of England starts to switch paper money with notes made of sophisticated polymers later this year. While the plastic notes have many advantages, they can be "too slippery" for older machines using friction to count bills, Andy Mattes, chief executive officer of ATM manufacturer Diebold Inc., said in an interview in London.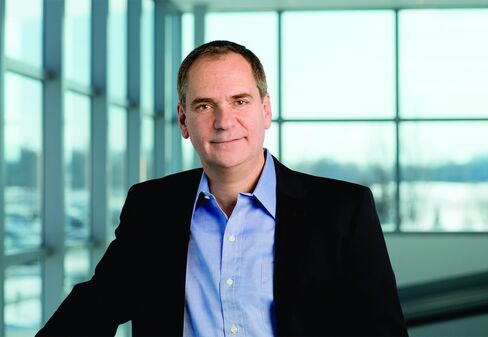 Britain's central bank is seeking to follow nations from Canada to Australia in adopting the plastic bills, which are tougher to forge, more durable and collect less dirt than paper money. Using the new bills, which are also about 15 percent smaller, can be difficult for older rollers and counting machines to hold on to and dish out accurately, so banks are taking steps to prevent machines doling out too many bills -- or too few.
"Every bank has a polymer note project team working right now," said Diebold's Mattes. The U.K. already has one of the more "mature" fleets of ATMs, and introducing polymer notes will probably accelerate efforts to replace older machines, he added.
Total Cost
The ATM upgrades could bring a potential cost of 45 million pounds ($65 million) across the industry, according to CMS Payments Intelligence, a researcher. There are more than 70,000 ATMs across the country, according to payments processing firm VocaLink.
At Nationwide Building Society, costs to handle the new bills are included in a 500 million-pound refresh of the customer-owned lender's branch network that's already under way, said Mike Pighills, the firm's head of self-service.
"The older machines -- which were built and deployed before polymer was even a twinkle in anyone's eye -- require an upgrade," Pighills said.
The costs come as many predict digital payments will erode the use of bills. Deutsche Bank AG co-CEO John Cryan in January predicted the disappearance of physical cash within a decade. Diebold's Mattes said the death of cash is "greatly exaggerated" as a majority of the world's transactions are still completed with bills.
Scottish Notes
While the BOE makes its preparations, RBS, CYBG Plc's Clydesdale Bank and Lloyds Banking Group Plc's Bank of Scotland unit are moving to introduce plastic banknotes with separate designs to the U.K. central bank for use in Scotland, where each lender is authorized to issue their own notes.
Clydesdale became the first bank in Britain to introduce a polymer 5-pound note last year. RBS will introduce a 10-pound note featuring Scottish scientist Mary Somerville in the second half of next year.
Diebold said it's working with the Scottish lenders to ensure that its equipment can handle their future polymer note releases. RBS said in its annual report it replaced 922 ATMs in 2015, without saying whether the new bills were a reason.
'Always Something'
ATMs aren't the only equipment that will need to be rejigged. CMS estimates a total of between 230 million and 240 million pounds will have to be spent on the transition, including 55 million pounds for vending machines and 25 million pounds for new anti-counterfeiting equipment. The Bank of England said it has been working with cash handlers to develop plans for "a smooth transition" and that ATM manufacturers have identified fixes for any handling issues they have identified.
HSBC, Europe's largest bank, has a program of "new hardware and software" for the ATMs across its British business planned ahead of the introduction of the notes, head of U.K. cash services Annie Cooper said, without giving a specific cost figure.
The U.K. has a "large ATM network and clearly being able to process new types of notes is not insignificant," said Sara Parker, product director for Link ATM services at VocaLink. "My sense is that it's one of those things that the industry takes in its stride, but it's another investment point. There will always be something."
The BOE will first issue 5-pound polymer notes featuring Winston Churchill later this year, followed in 2017 by 10-pound notes bearing the image of author Jane Austen. New 20-pound notes will be issued by 2020.
For ATM operators, plastic money will have one very visible advantage, Diebold's Mattes said. The polymer bills collect far less dust than paper money, which can leave the interior of cash machines filthy. When technicians currently go to fix an ATM, "the tool they often need is a vacuum cleaner," he said.
(An earlier version of this story corrected the bill on which Churchill will appear.)
Before it's here, it's on the Bloomberg Terminal.
LEARN MORE