JPMorgan, BofA Lead Banks Higher on Expansion of Buybacks
Citigroup says it hasn't made additional repurchase requests

Approvals suggest regulators more comfortable on capital
JPMorgan Chase & Co. and Bank of America Corp., the two largest U.S. lenders by assets, led bank stocks higher Friday after announcing more share buybacks.
JPMorgan climbed as much as 3.8 percent, the most in more than two weeks, after the New York-based company said it can repurchase an additional $1.88 billion of shares through June. Bank of America gained as much as 3.6 percent after its board approved buying back up to $800 million of shares to offset dilution that would otherwise result from incentive-compensation awards.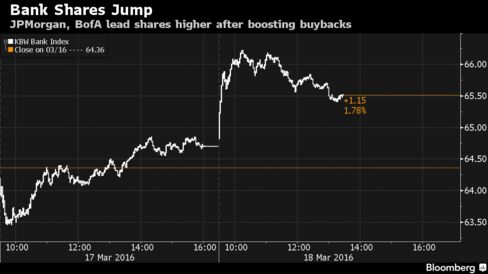 The announcements suggest regulators are becoming more comfortable allowing the biggest U.S. banks to return capital to shareholders after restricting repurchases in the wake of the financial crisis, according to Charles Peabody, an analyst at Portales Partners.
"There is a flexibility on the part of the regulators to listen to capital requests when things turn out better than expected," Peabody said in a phone interview.
Citigroup Inc. said it hasn't sought permission to return additional capital to shareholders since winning approval from regulators for its proposal in the 2015 stress tests.
Preparing Submission
"Citi was pleased last year that the Federal Reserve did not object to our planned capital actions as part of the 2015" stress-test process, the New York-based company said in an e-mailed statement. "Since then, we have not made additional requests; rather we have focused our efforts on continuing to improve our capital planning process and the preparation of our 2016 submission."
Spokesmen for Goldman Sachs Group Inc. and Morgan Stanley declined to comment on whether their firms would ask the Fed for permission to return additional capital to their shareholders, and a spokesman at Wells Fargo & Co. had no immediate comment.
Bank of America shares, which tumbled 20 percent this year through Thursday, increased 2.4 percent to $13.72 at 1:40 p.m. in New York. JPMorgan, which had been down 11 percent for the year, rose 2.1 percent to $59.96.
Bank of America's buyback announcement is "a signal of how far this bank, and the industry broadly, has come in complying with the new regulatory framework," analysts at Credit Suisse Group AG led by Susan Roth Katzke wrote in a note to clients Friday.
The firm struggled to win regulatory approval for its capital plan last year, and passed the 2015 stress tests in December only after resubmitting its proposal and persuading regulators it had improved internal controls.
Before it's here, it's on the Bloomberg Terminal.
LEARN MORE