Swiss Keep Franc Intervention Threat Alive as Rates Left on Hold
SNB holds deposit rate at minus 0.75% as forecast by economist

Repeats pledge to intervene in foreign currency markets
Switzerland's central bank held interest rates at a record low and repeated its pledge to intervene in currency markets, a threat President Thomas Jordan has used to keep the franc from strengthening.
Describing the nation's currency as "significantly overvalued," the Swiss National Bank kept its deposit rate at minus 0.75 percent on Thursday, as expected by all economists in a Bloomberg survey. It cut both its growth and inflation forecast for 2016 and now sees prices dropping 0.8 percent this year.
In keeping rates on hold, Jordan breaks with colleagues at the European Central Bank and the Bank of Japan, who've acted this year to keep deflationary forces at bay, prompting criticism of competitive devaluations. The SNB could afford not to cut after last week's ECB stimulus failed to have much impact on the franc versus the euro, the currency of its largest trade partner.
"I think the most significant event for the Swiss was the reaction of the euro to the ECB meeting," said Jane Foley, senior foreign-exchange strategist at Rabobank in London. Had the euro sustained its initial losses, "there would have been a lot more pressure on Swiss officials to follow the ECB in a beggar-thy-neighbor type of policy."
Volatile Markets
Switzerland's economy remains in a fragile state due to the currency's strength and deteriorating demand in China and other emerging markets, as well as commodity-producing countries. Citing a less favorable view of the global economy, the SNB lowered its prediction for Swiss growth this year to between 1 percent and 1.5 percent, from approximately 1.5 percent previously.
"We had weaker growth in emerging markets such as China, but also Europe grew much less well as did the U.S.," Jordan told radio station SRF4 in an interview, adding that he wasn't excluding any monetary policy measures. "And the forecast for these markets in 2016 is a bit less good than we'd expected three months ago. "
The SNB's warning of a global slowdown corresponds with comments from the U.S. Federal Reserve on Wednesday, when officials scaled back expectations for future interest rate increases.
The franc slipped to 1.09676 per euro as of 12:50 p.m. Zurich time. It has weakened about 1 percent this year.
"The theme of slowing or slower-than-expected world growth seems to be considered a significant headwind" by officials around the world, Foley said. "We've seen this from a lot of central bankers and policy makers recently.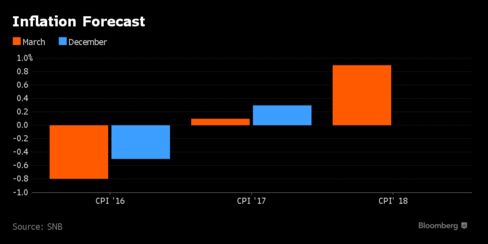 Yet another drop in the price of oil has added to the challenges facing officials in Switzerland, where the annual inflation rate hasn't been positive since 2011. The Swiss government cut its 2016 inflation forecast on Thursday, predicting a price drop of 0.6 percent this year.
Governing Board member Andrea Maechler said in an interview earlier this month that foreign risks, including the potential for the U.K. to leave the EU, had increased. Still, the franc had become less of a haven of late, with capital heading for Japan instead, she said.
According to a Bloomberg survey, Jordan and his colleagues have room on interest rates if they need to respond to any threats. Economists say the SNB could cut its deposit rate to as low as 1.25 percent.
"Alongside Denmark, Switzerland has one of the lowest interest rates in the developed world, and while growth and inflation remain low, there is clearly a very limited appetite for further easing," said Elizabeth Martins, an economist at HSBC Bank Plc. "While Chairman Thomas Jordan has declined to rule out additional cuts, we think the bank would prefer to use alternative tools where possible: currency market intervention, for example, or potentially even raising the threshold of deposits to which negative rates can be applied."
Before it's here, it's on the Bloomberg Terminal.
LEARN MORE