While Amazon.com Inc. is already a force to be reckoned with when it comes to online retail, one Wall Street firm says it's about to move up the ranks in yet another industry: U.S. food and beverage.
"Amazon will be a top-10 player in the approximately $795 billion U.S. food and beverage grocery market by 2019," analysts at Cowen & Company LLC, led by John Blackledge, said in a new note this week. "We are encouraged by Amazon's growing footprint in this category, which we see as ripe for potential disruption given younger [demographics] increasingly purchasing food and beverage [F&B] grocery items via digital channels."

Amazon has already been building its grocery offerings and going up against such competitors as Wal-Mart Stores, Inc., Costco Wholesales Corp., and Publix Supermarkets Inc. It now has Amazon Prime, Prime Now, Prime Pantry, and Amazon Fresh that offer delivery times as short as an hour, in some cases.
Despite formidable competition, Cowen reckons this is the perfect time for the online behemoth to be taking on this industry. Amazon is "set to feast" on the massive U.S. food and beverage industry, Blackledge writes, citing two key reasons.
The first involves the generation known as millennials, or those between the ages of roughly 19 and 34, although that age bracket changes depending on whom you ask. According to Blackledge's research, this group makes up a massive portion of the online grocery market, and it is about to enter prime spending years.
"Our new proprietary survey data suggests millennials are set to drive [a] long-term shift of rising online F&B sales as 21 percent of the 25-34 age cohort are current online grocery shoppers vs. 11 percent of total U.S. consumers surveyed," he wrote.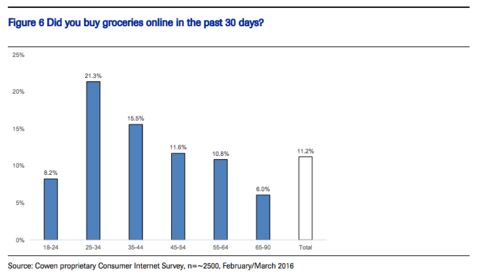 The second factor is simply that the apps and websites providing online food and beverage purchases have improved over time and will likely continue to do so. To this second point, Cowen points out that Amazon Prime dominates when it comes to the online platform: "Our survey data suggests Amazon Prime is the most-used platform (49 percent of online F&B customers said they use Prime), followed by Fresh (18 percent) and Prime Now (11 percent)," the team wrote.
Companies not part of Amazon that made the list include Walmart.com, Safeway, Google Express, Peapod, Fresh Direct, and Instacart.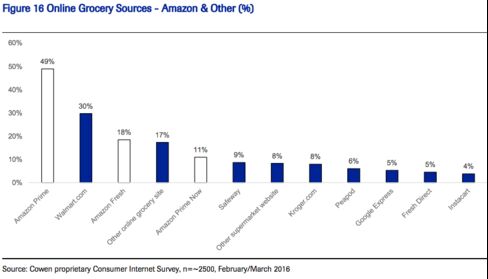 Amazon's stock has struggled so far this year, falling 15 percent since the start of 2016 after more than doubling in 2015. Greater domination and thus sales in the online food and beverage market could spark an improvement. Wall Street as a whole remains bullish, as not a single analyst rates Amazon as a "sell," and the average price target is $746, a rise of 30 percent from current levels.
Before it's here, it's on the Bloomberg Terminal.
LEARN MORE