CFTC Brought in to Police Murky Market for Biofuel Credits
Refiners spent at least $1 billion on ethanol credits in 2015

U.S. requires oil companies blend set amounts of biofuel
The Environmental Protection Agency is enlisting the help of the U.S. Commodity Futures Trading Commission to help it police the creation and trading of biofuel credits, an opaque $1 billion market that has seen cases of fraud.
The agencies said Thursday they signed a memorandum of understanding to share information. The accord also allows the CFTC to advise the EPA on investigations into potential fraud involving so-called Renewable Identification Numbers, or RINs.
RINs were created to help oil refiners comply with Renewable Fuel Standard, a law that requires them to use escalating volumes of biofuels. A party receives one RIN for each gallon of biofuel it blends with gasoline. That party can either keep the credit to show its adherence to the law or sell the RIN to someone else.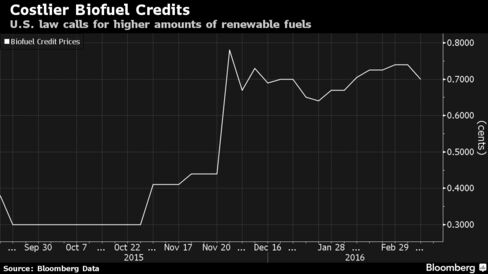 However, the EPA-administered program has seen cases where fake RINs have been created and traded. Chevron Corp. and Western Refining Inc. are among companies that say they have been duped by fraudulent credits. On March 7, Philip Joseph Rivkin, owner of a biodiesel company in Texas, was sentenced to 10 years in prison and ordered to pay $138 million in restitution and forfeiture for selling more than 60 million bogus RINs.
"There has been criticism that this is an opaque market," Timothy Cheung, vice president of research of energy research at Washington-based ClearView Energy Partners LLC, said in a telephone interview. "In general, transparency is a good thing. More information will help price discovery."
The Renewable Fuels Association said in an e-mailed statement it applauded efforts to improve "transparency and efficiency" in the RIN market.
Cumulatively, fuel refiners, including Valero Energy Corp., Delta Airlines Inc., and Carl Icahn's CVR Energy Inc., spent at least $1 billion on RINs last year, regulatory filings show. The price of a RIN is about 70 cents, according to data compiled by Bloomberg, up 8.5 percent over the past year.
"The potential gain from cheating is higher than it used to be," Wallace Tyner, an agricultural economist at Purdue University in West Lafayette, Indiana, said Thursday by phone from Washington, a day after he testified on the standard before Congress.
Before it's here, it's on the Bloomberg Terminal.
LEARN MORE