Iran's January Oil Exports Hit 22-Month High
Iran's oil exports climbed to the highest in 22 months in January when sanctions against its economy ended, opening the way for higher shipments to Asia and new sales to Europe and Africa.
Exports rose to 1.55 million barrels a day in January, the highest since March 2014 and 9.2 percent higher than the month before, according to data Thursday from Riyadh-based Joint Organisations Data Initiative. Production climbed to 3.37 million barrels a day, the most since February 2014.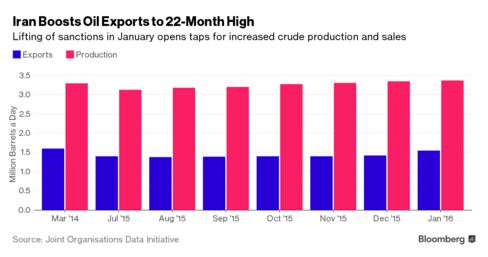 Iran aims to increase production to 4 million barrels a day before it will consider joining oil producers in a proposal to freeze output. That would be the highest since October 2008, according to JODI data. The nation was OPEC's second-biggest producer before sanctions were stepped up in 2012.
The country last month shipped its first cargo to Europe since 2012. National Iranian Oil Co. has signed contracts for the sale of about 400,000 barrels of crude a day to European refiners, even if all cargoes for that entire amount haven't shipped because of financial restrictions that remained in place, two company officials said Wednesday.
Before it's here, it's on the Bloomberg Terminal.
LEARN MORE