Discouraged Workers Dog Europe's Recovery
Some working-age Europeans have rarely, if ever, held jobs.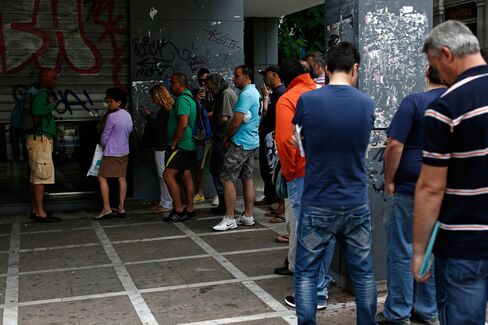 Europeans finally seem to be going back to work: Euro zone unemployment has fallen from 11.9 percent to 10.3 percent over the past two years. But those figures mask a rise in the number of jobless Europeans who have given up looking for work, and thus aren't officially counted among the unemployed.
About 4.6 percent of working-age people—11.4 million in the 19-nation single-currency bloc—say they are "available to work but not seeking" a job. That's up slightly from the same period in 2013, according to the European Union's statistics agency.
Typically during periods of economic recovery, the number of so-called discouraged workers declines as people resume looking for jobs. In the U.S., some 1.8 million say they want to work but aren't looking, down from 2.5 million in 2010. But in Italy and France, as well as some smaller economies, the ranks of the discouraged are growing even as unemployment inches down. The problem is worst in Italy, where an estimated 4.5 million have quit job-hunting and outnumber the 2.7 million officially unemployed.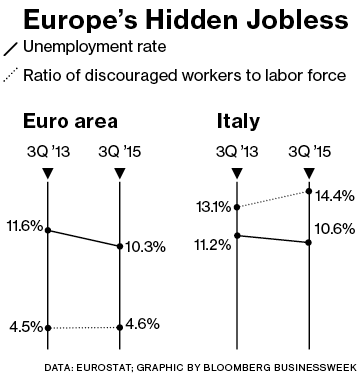 In Italy and elsewhere, years of sluggish growth and high unemployment have created a pool of adults who've rarely if ever held jobs or have been out of work so long that their skills aren't marketable. "After so many years, I cannot sell myself in any way," says Maria Luisa Tegon, 52, who last worked in 2007 as a computer programmer specializing in an IBM operating system that later was discontinued. Tegon, who says she stopped looking for work two or three years ago, lives on her husband's income and occasionally works as a ticket seller at a municipal parking lot near her home in Venice. "I definitely don't need my IT knowledge and experience to do that," she says.
Some discouraged workers, like Tegon, get financial support from family members, while others scrape together a living from off-the-books jobs. Those solutions create other problems, says Giuseppe Ragusa, an economist at LUISS Guido Carli University in Rome. People who don't have legitimate jobs don't pay income taxes, increasing the burden on their taxpaying countrymen. Nor do they pay into public pension systems, which in Europe are already struggling to keep up with a rapidly aging population. What's more, many retirees now use their pension income "as a stipend for their sons and daughters who don't work," Ragusa says. Having two generations dependent on pension income makes it harder to build political support for badly needed pension reforms.
Not all European countries are afflicted equally by the discouraged-worker syndrome. In Spain the percentage of people who quit looking for work never exceeded 5.1 percent, even in the depths of the European debt crisis in 2013, when Spanish unemployment climbed to almost 27 percent. Since then, unemployment has fallen to 20.9 percent and the rate of discouraged workers is down to 4.4 percent.
A key factor in keeping Spain's discouraged-worker count low was its unemployment-insurance system, says Stefano Scarpetta, the director of employment, labor, and social affairs at the Organisation for Economic Co-operation and Development in Paris. Spain offers relatively generous unemployment benefits, covering more than 60 percent of a worker's previous income for as long as two years—but in exchange, recipients are required to search actively for work. "One of the things we learned from the crisis was, even countries that have generous benefits, if they are closely tied to job-searching, counselling, and training—these are the countries that performed better," Scarpetta says.
Italy offers some of Europe's skimpiest unemployment coverage, with benefits lasting no more than 10 months and more than 40 percent of workers not covered by unemployment insurance at all. France has generous benefits but is less stringent about requiring people to search for work, so recipients tend to stay on the dole longer, Scarpetta says. Discouraged workers in central and eastern Europe often started their careers under Soviet-era central planning and can't find suitable jobs now.
One of the biggest worries about discouraged workers is what happens to them in their retirement years. A recent OECD study estimated that someone who goes without a job for five years is likely to have 10 percent lower retirement income than someone who worked continuously. What about those who spend whole decades on the sidelines? Discouraged workers often rely on "the family network and wealth accumulated by past generations," economist Ragusa says. "When this wealth is eroded, no one knows who will take care of these people."
Elisabetta Bombacci lost her job as a saleswoman in a Rome dress shop in 2013. Now 52, she lives on her parents' savings and cares for her 90-year-old widowed mother. "I dream of having a job," she says. "Life is very expensive." But Bombacci isn't looking for a job and doesn't expect to work again. "Shops are looking for 25-year-old girls," she says. "I've been cut out of the labor market."
—With Giovanni Salzano
The bottom line: In the U.S., the number of discouraged workers is dropping, while in Europe it's rising despite a recovery.
Before it's here, it's on the Bloomberg Terminal.
LEARN MORE