Currency Traders Baffle Norway's Top Central Banker, Others
The only central bank in Europe to cut rates on Thursday was met by a sudden currency appreciation that left economists and policy makers scratching their heads.
Here's what happened:
Norges Bank delivered a quarter-point rate cut to 0.5 percent, in line with almost all analyst estimates
It signaled readiness to deliver further easing, adding that negative rates were not to be ruled out
It even cut its economic outlook
Currency traders responded by sending the krone up more than 1 percent against the euro, only to think better of the move a few hours later, when they sent the krone lower


The immediate currency-market reaction made "no sense," said Kristoffer Kjaer Lomholt, an analyst at Danske Bank. It was just "strange."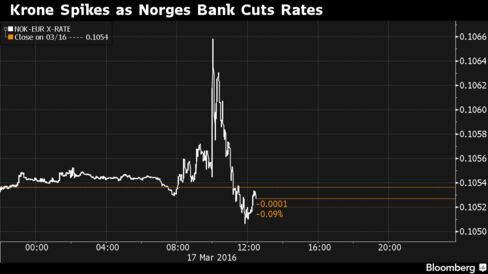 Oeystein Olsen, the governor of Norges Bank, puts the market's response down to a case of the jitters.
"Financial markets are nervous in how they react to any news. When a central bank takes measures like we've taken today -- that's news," Olsen said in an interview in Oslo after Thursday's rate decision. "I don't know why the krone strengthened."
But given that the fate of the krone determines the fate of inflation, the "strange" market reaction -- to quote Danske -- is problematic. Olsen has made clear the bank needs to ensure Norway's currency doesn't appreciate too much, and has followed through with a series of rate cuts since December 2014 to underline his point.
For western Europe's biggest producer of oil, the only upside to the more-than-60 percent slump in the price of crude since a June 2014 high is that it has resulted in a weaker krone, helping support Norway's exports and fueling inflation.
But the krone is only down about 12 percent against the euro over the same period and exports haven't really been doing that well. Stripping out oil, Norway has been running a trade deficit which widened 11 percent last year. Its overall surplus has been shrinking.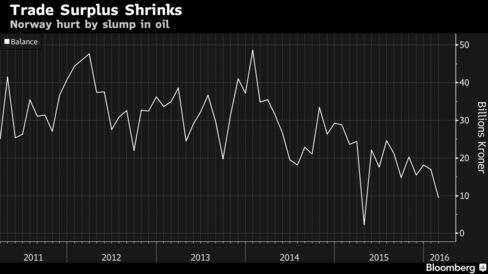 Any sudden exchange rate gains will be unwelcome for a central banker trying to protect his economy from a recession, so Olsen will need currency traders to interpret his signals correctly.
Norway's economy "faces challenges related to the falling oil price," Olsen said. "We will have low growth in the economy this year and unemployment is increasing."
The krone gained 0.2 percent to 9.3997 per euro as of 4:15 p.m. in Oslo, after rising 0.8 percent on Thursday.
Before it's here, it's on the Bloomberg Terminal.
LEARN MORE