Catalonia Said to Court Default in Spanish Game of Chicken
Officials in Barcelona aim to force aid payments from Spain

Spain trying to contain separatists in Catalan government
Catalonia is deliberately flirting with default on its bank loans as the region's separatist government tries to force the Spanish state to deliver aid payments, according to two people familiar with the situation.
Officials in the regional capital Barcelona are counting on Spain to step in and supply the funds they need to meet loan repayments coming due this year, betting the central government will be forced to back down because the costs of a default would be greater for the Spanish sovereign, the people said, asking not to be identified discussing confidential matters. The region already missed payments on at least two bank loans, Regional President Carles Puigdemont said earlier this month according to El Mundo newspaper.
Albert Puig, a spokesman for the Catalan government, said the region is trying to persuade Spain to release aid money due from 2014. He said Wednesday there's "no scenario" in which Catalonia would default.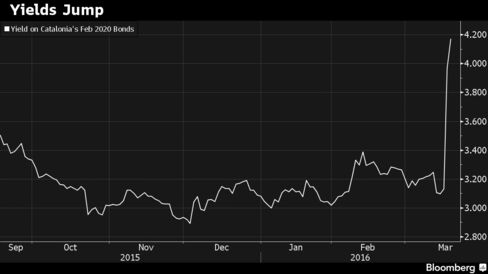 Catalan bonds maturing in February 2020 plunged the most since June 2013 on Wednesday after El Mundo reported that the region could be placed on selective default by credit rating company Standard & Poor's. The yield on the debt rose by 21 basis points to 4.18 percent on Thursday after jumping by 84 basis points during the previous session. Similarly dated Spanish debt yields 0.36 percent.
Fight for Independence
The separatist government in Catalonia, Spain's biggest regional economy, is locked in a battle with the authorities in Madrid as it fights for independence. Puigdemont has pledged to prepare for secession by the middle of next year, though caretaker Prime Minister Mariano Rajoy says his plans are illegal.
The latest skirmish between the two administrations is over Catalonia's plan to extend the maturity of approximately 1.6 billion euros ($1.8 billion) of bank loans coming due this year. Such modifications require approval from the central government under the terms of the region's 2012 bailout deal and Spain has been dragging its feet. Those loans are from Banco Santander SA, Banco Bilbao Vizcaya Argentaria SA, CaixaBank SA and Banco Sabadell SA, the two people said.
S&P downgraded Catalonia's credit rating to BB- from BB in October last year citing increasing political tension with the central government. At the time, S&P argued that without "smooth coordination" between officials in Madrid and Barcelona, the region's debt servicing could be compromised.
It placed Catalonia on negative credit watch on March 4 while Spain is rated BBB+ with a stable outlook.
Buying Catalonia
Despite market jitters, Mark Dowding, who manages about $60 billion as a partner at London-based BlueBay Asset Management LLP, sees it as a window of opportunity. He bought Catalan debt Wednesday would consider buying more on further weakness. He said the Spanish central government would ultimately act as a lender of last resort for Catalonia given the implications that a potential regional default could have for Spain's own public finances.
"The question is whether you think Spain would allow a region to default," he said. "A default in Catalonia could trigger a constitutional crisis and could double Spain's spread. For that reason, allowing a default is unthinkable, it's a substantial negative for Spain as a whole."
Catalan finance chief Oriol Junqueras, who also leads separatist party Esquerra Republicana, is due to meet Acting Budget Minister Cristobal Montoro March 18. Junqueras already met Acting Economy Minister Luis de Guindos on March 8 in a meeting organized at Barcelona-El Prat airport. Commenting on the meeting, De Guindos said the Spanish central government will always stand by its regions.
Before it's here, it's on the Bloomberg Terminal.
LEARN MORE