Water Could Make or Break Bets on China-Beating India Growth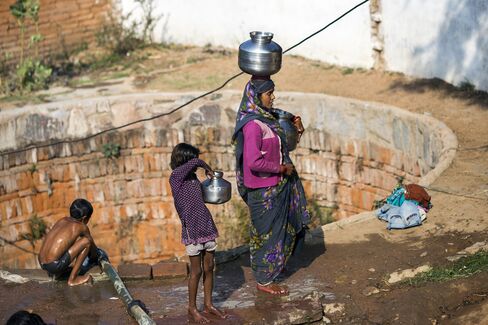 Fate of monsoon in focus after two poor annual rainy seasons

Government outlays on affected areas could boost some stocks
Investors betting on India need the rain gods to smile.
The nation's reservoir levels are three-quarters of the past decade's average, a sign it can ill-afford a third year of poor rains. Water scarcity could hurt crops, push up prices and sap the economy -- further souring sentiment following a slide in the S&P BSE Sensex.
A so-called El Nino weather phenomenon in 2015 saddled India with the driest monsoon in six years. Forecasters say a wetter La Nina pattern that's better for Indian harvests may develop but is unlikely to emerge in time for the start of the June through September monsoon season.
"It's possible this year could be worrisome if El Nino continues," Water Secretary Shashi Shekhar said in an interview in New Delhi. "Water security is India's biggest challenge."
Some 75 percent of India's basins currently hold less water than the average for the past 10 years, Central Water Commission data show. Storage is about half usual levels in a region covering Gujarat -- home to Ford Motor Co. and Bombardier Inc. factories -- and Maharashtra, where Mumbai lies. Across the country, reservoirs are 71 percent empty.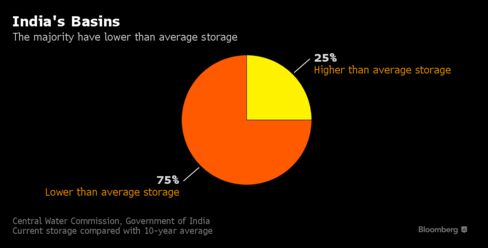 Monsoon rains bring the bulk of yearly showers and are critical as about half of India's 1.3 billion population is employed in agriculture, which accounts for roughly 18 percent of the nation's $2 trillion gross domestic product.
A delayed or deficient season could force companies to pay more for water supplies, hurt the rural economy and damp consumption, said Chakri Lokapriya, chief investment officer at TCG Advisory Services Pvt. in Mumbai.
NTPC Ltd., the biggest power generator in India, on March 13 took the step of suspending operations at the 2,100 megawatt Farakka plant in West Bengal after a drop in water supplies that the company described as unprecedented.
The Sensex fell into a bear market last month, and forecasters such as HSBC Holdings Plc argue earnings expectations are too high even as economic growth outpaces China's expansion.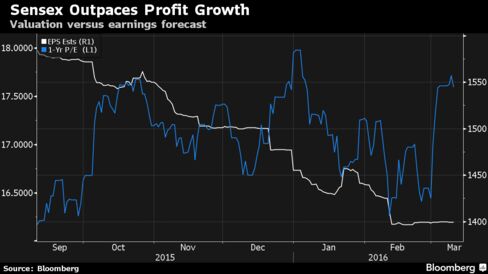 The Sensex trades at 17.8 times one-year forward earnings, versus a multiple of 12.1 for the MSCI Emerging Markets index. Net incomes at the 30 Sensex members have declined in four of the last five quarters, according to data compiled by Bloomberg News.
The impact of the rain outlook presents risks both ways.
Spiking food costs and higher inflation as crops suffer could curb the scope for lower interest rates, hitting sentiment toward stocks, bonds and the rupee. Healthy rainfall could pave the way for the reverse.
Finance Minister Arun Jaitley in his budget speech in February shifted the focus to agrarian areas reeling from a lack of enough water, outlining about 700 billion rupees ($10.4 billion) of spending on everything from a rural jobs program to irrigation.
That shift portends a strong rise in rural consumption from September, and potential beneficiaries include companies such as Hero MotoCorp Ltd., Mahindra & Mahindra Ltd. and Jain Irrigation Systems Ltd., Deutsche Bank wrote in a note this month.
The timing of La Nina is another potential upside risk. Strong El Ninos in the past have been followed by La Ninas that led to bumper harvests, according to the Finance Ministry. The Sensex rose as much as 76 percent during strong or moderate La Nina episodes, data compiled by Bloomberg News show.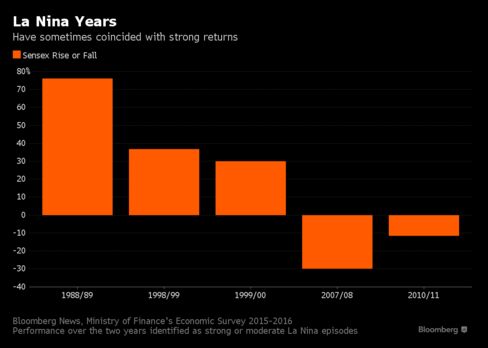 The big catch is that El Nino is only gradually weakening, the Finance Ministry said in a February report. The National Oceanic and Atmospheric Administration in the U.S. sees a 50 percent chance of La Nina in August through October this year.
As India's groundwater depletes and half the population grapples with potential surface-water disruption, the country faces an intensifying challenge to find the supplies required for the world's fastest-growing major economy.
"We're running against time,'' said Shekhar from the Water Ministry.
Before it's here, it's on the Bloomberg Terminal.
LEARN MORE