Valeant Is Worth Less Than What It Spent on M&A Last Year: Chart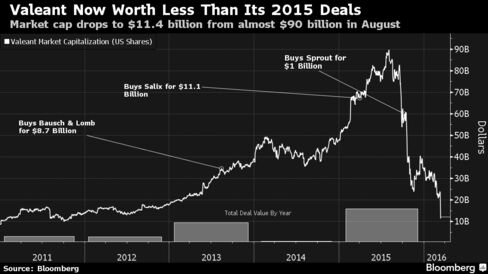 Valeant's market capitalization of $11.4 billion is now less than the amount it spent on acquisitions last year, when it bought Salix Pharmaceuticals Ltd., Sprout Pharmaceuticals Inc. and other assets. Valeant shares fell 51 percent Tuesday after the company cut its 2016 forecast. It's been a steep decline -- the company was worth $90 billion at its peak in August 2015, but has since been scrutinized for its drug prices and its relationship with a mail-order pharmacy, and been the subject of regulatory and congressional investigations.
Before it's here, it's on the Bloomberg Terminal.
LEARN MORE