Osborne Cuts Company Tax, Targets Sugar as U.K. Growth Slows
OBR predicts economic growth of 2% in 2016, 2.2% in 2017

Chancellor announces higher threshold for 40% income tax
Chancellor of the Exchequer George Osborne announced a further cut in the main rate of company tax and put a levy on sugary drinks as he warned the U.K. economy will grow less quickly in each of the next five years than previously forecast.
In his annual budget speech to the House of Commons, Osborne said corporation tax will be lowered to 17 percent by 2020 from 20 percent now. He also set out higher thresholds for business rates for small companies, seeking to emphasize his Conservative Party's image as the champion of enterprise, while tightening loopholes that allow corporations operating in many countries to minimize their U.K. tax bills.
Twitter: Bloomberg Business on Twitter
"This is a Budget which gets rid of loopholes for multinationals and gets rid of tax for small businesses," Osborne told lawmakers in London on Wednesday. "A 7 billion-pound tax cut for our nation of shopkeepers. A tax system that says to the world: We're open for business. This is a government that's on your side."
The expected 2 percent economic growth this year, as calculated by the Office for Budget Responsibility, compares with a prediction of 2.4 percent in November. The economy will grow by 2.2 percent in 2017 and 2.1 percent in 2018, compared with the 2.5 percent and 2.4 percent seen four months ago, he said, while arguing that his stewardship for the past six years has put Britain in a good position to deal with global headwinds.
---

U.K. Budget 2016: Key Highlights
GDP forecasts revised downwards: 2 percent (2016), 2.2 percent (2017), 2.1 percent (2018)
Inflation forecast revised down to 0.7% in 2016
U.K. economy expected to grow fastest among major economies
Sugar tax to be introduced on soft drinks
Higher-rate income tax 40 percent threshold raised to 45,000 pounds ($63,000)
Corporation tax rate cut to 17 percent from 2020
Insurance premium tax up 0.5% to 10%
---
EU Appeal
The forecasts by the OBR are "predicated on Britain remaining in the European Union," Osborne said, as he made a direct appeal to voters to keep the U.K. in the 28-nation bloc in the June 23 referendum.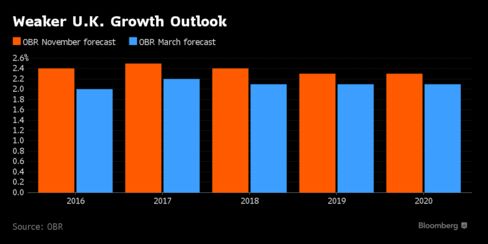 The country faces "a dangerous cocktail of risks but one that Britain is well prepared to handle if we act now," the chancellor said. "We can choose to add to the risk and uncertainty or we can choose to be a force for stability. Britain can choose short-term fixes and more stimulus or lead the world with long-term solutions to long-term problems."
The finance minister was seeking to strike a balance between spending cuts and sweeteners to reassure the electorate and members of the Tory party as the divisive EU referendum approaches. The deteriorating growth prospects and lower-than-forecast tax revenues have limited his options, but he was able to announce an increase in the starting point for the higher 40 percent rate of income tax to 45,000 pounds ($63,300) a year in 2017-18, compared with the current level of 42,385 pounds. He also took more people out of paying tax altogether by raising the personal tax-free allowance to 11,500 pounds from 11,000 pounds.
He also froze duty on gasoline, known as petrol in the U.K., after speculation before his speech that he would increase it to capitalize on lower retail prices. In further populist moves, he froze the duties of beer and cider and increased the allowance for tax-free Individual Saving Accounts to 20,000 pounds.
Deficit Forecasts
The budget deficit in the year 2015-16 will be 72.2 billion pounds, compared with a forecast in November of 73.5 billion pounds, Osborne said. It will then be higher than predicted at 55.5 billion pounds in 2016-17 and 38.8 billion pounds in 2017-18, he said, citing the OBR.
Osborne said Britain will have a surplus of 10.4 billion pounds in 2019-20, compared with a previous forecast of 10.1 billion pounds, meeting a commitment, now enshrined in law, that he would deliver one by 2020 -- the first since 2001. Cuts to government spending of 3.5 billion pounds were effectively post-dated to 2019-20. In the three previous years, borrowing will be 36 billion pounds higher than previously predicted.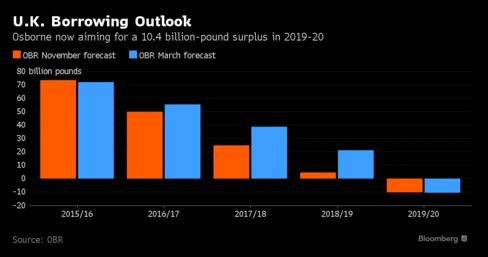 "The security of families and businesses depends on Britain living within its means," Osborne said. "We will not burden our children and grandchildren," he said. "This is a budget for the next generation."
Osborne set out plans for a tax on companies producing and importing sugar-sweetened drinks as part of a drive to cut childhood obesity. The levy will raise 520 million pounds, the chancellor said, which will be used to double the amount of cash invested in sport in elementary schools. It will be levied in two bands, on drinks containing 5 grams of sugar per 100 milliliters with a higher rate for those with more than 8 grams, he said.
"Five-year-old children are consuming their body weight in sugar every year, experts predict that within a generation over half of all boys, and 70 percent of girls could be overweight or obese," Osborne said. "I am not prepared to look back at my time here in this Parliament, doing this job and say to my children's generation: I'm sorry. We knew there was a problem with sugary drinks. We knew it caused disease. But we ducked the difficult decisions and we did nothing."
Osborne also announced moves to support the oil industry, including cutting the supplementary charge on oil and gas to 10 percent from 20 percent and "effectively abolishing the petroleum revenue tax."
"This is a chancellor who has produced a budget for hedge-fund managers more than small businesses," opposition Labour Party leader Jeremy Corbyn said in his response to the speech. "The budget the chancellor has just delivered is actually the culmination of six years of his failures."
Before it's here, it's on the Bloomberg Terminal.
LEARN MORE