U.K. Bonds Climb as Osborne Plans Lower-Than-Forecast Gilt Sales
DMO to sell 129.4 billion pounds of gilts next fiscal year

Sales of gilts set to increase from fiscal year 2015-16
U.K. government bonds held gains as Chancellor of the Exchequer George Osborne's budget set gilt issuance for the next fiscal year lower than analysts had forecast.
Britain will sell 129.4 billion pounds ($182 billion) of the securities in the fiscal year starting in April, the Debt Management Office said in a statement after Osborne's speech to Parliament. While that is up from about 127.4 billion pounds planned for this year, it's below the 137 billion-pound median estimate of primary dealers surveyed by Bloomberg.
Of the planned sales, 26.7 billion pounds will come from longer-maturity debt, 24.8 billion pounds will be issued in medium-term debt and 30.4 billion pounds in short, the U.K.'s sovereign-debt manager said on its website.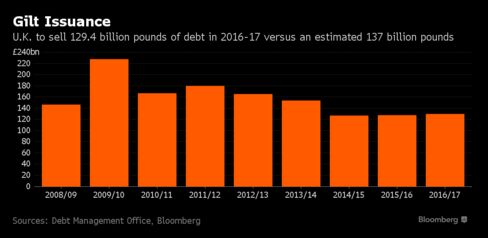 Osborne has been blessed with falling borrowing costs as average gilt yields have declined by almost 2 percentage points since he took office in May 2010. The scenario may get more difficult, with Britain three months away from voting on whether to leave the European Union. The budget chief faces potentially higher borrowing costs and reduced tax receipts should the uncertain outcome of a so-called "Brexit" put off foreign investors. They currently hold about 25 percent of gilts. Britain will vote on whether to remain in the European Union on June 23.
"Fundamentally, everything is still about the 'Brexit' referendum," said Marc Ostwald, a strategist at ADM Investor Services International Ltd. in London. "Markets shouldn't overreact to any of these numbers. There may need to be substantial changes to the U.K. budget."
The yield on benchmark 10-year gilts fell four basis points, or 0.04 percentage point, to 1.50 percent as of 3:49 p.m. London time. The 2 percent bond due in September 2025 climbed 0.325, or 3.25 pounds per 1,000-pound face amount, to 104.395. The real yield on index-linked securities due in March 2026 dropped three basis points to minus 0.94 percent.
Before it's here, it's on the Bloomberg Terminal.
LEARN MORE