Oil Freeze Won't Dent Global Glut Even With Wider Support: Chart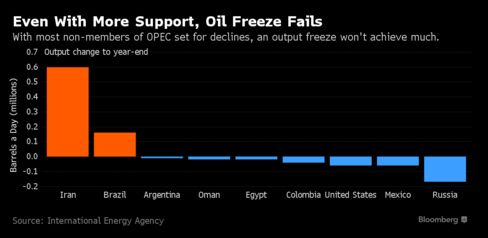 If Saudi Arabia and Russia were to pull off a diplomatic coup and persuade producers all over the world to join their oil-output freeze, it would have little impact on the global surplus. That's because Iran and Brazil, the two countries the International Energy Agency predicts will add most supply this year, have shown little interest in participating. Even if other suppliers as diverse as Argentina and Equatorial Guinea agreed to cap output, their combined efforts would curb supply this year by just 50,000 barrels a day, or 5 percent of the global production surplus, IEA data show.
Before it's here, it's on the Bloomberg Terminal.
LEARN MORE