LafargeHolcim Beset by Departures, Stock Slump Hurts Holders
CEO Olsen left to deliver on promises after CFO, chairman exit

Share price underperforms rivals as market doubts take hold
Less than a year after one-time French and Swiss rivals combined to create the world's biggest cement company, LafargeHolcim Ltd. is testing investors' patience amid a sagging stock price, management departures and earnings that stand to disappoint.
The company has lost 42 percent of its value since trading began in July, faring far worse than HeidelbergCement AG, the region's No. 2, and the Stoxx 600 Construction & Materials Index. Chairman Wolfgang Reitzle is leaving, the latest in a slew of other recent executive departures, as Chief Executive Officer Eric Olsen struggles to stitch together two corporate cultures, disparate teams and globe-spanning operations to wring promised synergies from the merger.
"The barriers to the deal have been underestimated," said Vincent Kaufmann, chief executive officer of Swiss pension-fund advisory Ethos, which came out against the merger last year. "The challenge is how to integrate these two very different cultures."
Lafarge and Holcim combined with the promise of more than $1 billion in annual cost savings, giving them an advantage over rivals after a global recession eroded demand for building materials. Instead, the deal was troubled from the start as Holcim investors opposed some terms and turf wars broke out about key positions, leading to Olsen as a compromise CEO. Since then, a slowdown in China and Brazil and slower-than-expected asset sales have delayed benefits.
"The market is not buying the current executives and synergies," Kaufmann said. "We don't see how the share price will recover."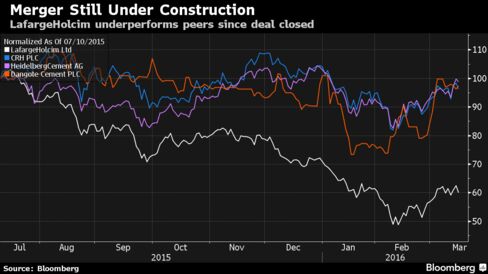 "There is a lot of potential in the merger and we have a clear plan that we shared with investors on December 1 last year," LafargeHolcim spokesman Peter Stopfer said by e-mail. "We are fully on track with our plan and will provide an update" when earnings are reported Thursday.
The slide in the stock price "went beyond even what we imagined would happen," Bernstein analyst Phil Roseberg wrote in a March 11 note. The cement maker's 2015 results will probably "disappoint."
Earnings before interest, taxes, depreciation and amortization for 2015 are expected to be 5.73 billion Swiss francs, according to an average of analysts surveyed by Bloomberg. That would mark a drop from the pro-forma operating Ebitda of 6.5 billion Swiss francs the previous year, adjusted for merger and restructuring costs.
Less Synergies
LafargeHolcim shares fell 2.2 percent to 41.22 Swiss francs at 5:09 p.m. in Zurich, taking the slump to 42 percent since July 14 when trading of the combined company began. HeidelbergCement stock dropped 1.9 percent during the period while the Stoxx 600 Construction & Materials Index fell 5.9 percent.
HeidelbergCement is also scheduled to report on Thursday after last month's lifting of a savings forecast from its 2015 purchase of Italcementi SpA.
Bernstein analysts have cut their forecasts for LafargeHolcim's savings on Ebitda to 500 million Swiss francs by the end of 2019, from 660 million francs previously. That's about half of what is targeted by LafargeHolcim and would take two years longer to achieve than the company has promised.
The cement maker has suffered delays in selling assets including in India, where is has to divest one sixth of its capacity for antitrust reasons. The company has a target to sell 3.5 billion Swiss francs of assets this year amid a construction slowdown in China and Brazil.
"Combining two divergent cultures and delivering on stretched synergies was always going to be a challenge," Roseberg said.
Board Structure
The structure of the 14-person board, with seven members each from Holcim and Lafarge, isn't helping the integration process, according to Kaufmann. Investors need a "strong and unified board" to support and challenge management and not overestimate the savings that management can deliver.
Hampering Olsen's efforts has been a steady stream of departures of top executives, stripping the company of some of the architects of the merger and leaving the former Lafarge executive to deliver on promises to shareholders. A dual U.S. and French citizen who joined Lafarge in 1999 and became CEO in July, Olsen said in an interview last month that changes at the top are part of a "normal evolution of the company."
Former Holcim Chief Financial Officer Thomas Aebischer left in December, while Reitzle, who salvaged the merger agreement, said in February he was returning to Linde AG, the German industrial gases company he previously ran. The cement maker's board is proposing ex-Holcim's Beat Hess to succeed Reitzle.
In India, which contributes 12 percent of revenue, the company has changed managers twice in two years after Onne van der Weijde left in 2014 and Bernard Terver retired this month. The former head of the Americas for Holcim, Andreas Leu, left the month after the merger.
"The integration is being made more difficult by the adverse market conditions and management turnover in some of LafargeHolcim's key markets," according to Roseberg.
Before it's here, it's on the Bloomberg Terminal.
LEARN MORE