Greek Stocks, Bonds Hurt by Macedonian Qualifier Quarrel: Chart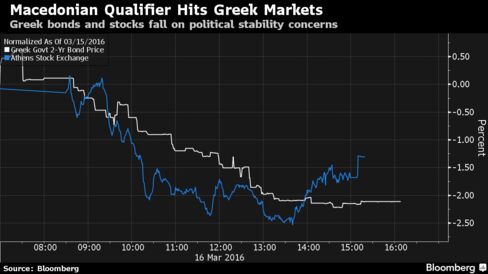 Greek stocks and bonds fell on Wednesday after Defense Minister Panos Kammenos asked for the resignation of Immigration Minister Ioannis Mouzalas, a demand that Prime Minister Alexis Tsipras has yet to answer. Kammenos said his Independent Greeks party -- Tsipras's junior coalition partner -- has withdrawn its support for Mouzalas for using the word "Macedonia" to describe the country's northern neighbor, without adding the qualifier "Former Yugoslav Republic of." The government quarrel raised doubts about Tsipras's parliamentary majority, pushing yields on government bonds due in July 2017 as much as 190 basis points higher, and Greek stocks down 1.3 percent.
Before it's here, it's on the Bloomberg Terminal.
LEARN MORE