Chipotle's Free Burritos May Cost More Than $60 Million: Chart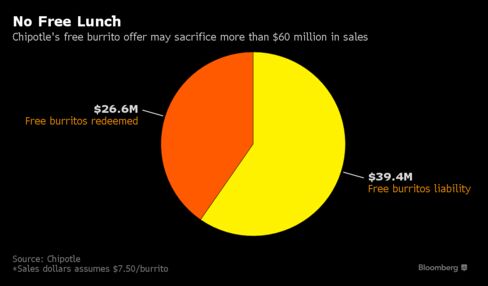 Chipotle Mexican Grill Inc., still struggling to regain customers after a string of foodborne-illness outbreaks, has been giving away millions of free burritos through a mobile-phone deal and mailed coupons. It's still sending out offers, with a plan to mail a total of 21 million coupons across the U.S., executives said during an investor conference on Wednesday. Between the mobile offers that already have been cashed in and the company's forecast that 25 percent of the mailed coupons will be used, Chipotle may end up giving away about $66 million in food.
Before it's here, it's on the Bloomberg Terminal.
LEARN MORE