Brazil ETF That Gained 175% Whipsaws Traders as Bears Take Over
Direxion Daily Bull Brazil ETF beat peers in last six weeks

Fund has crashed in past two days as investors turned bearish
A tiny exchange-traded fund focused on Brazilian stocks is posting the world's biggest drop after soaring 175 percent in just six weeks.
The $51.6 million Direxion Daily Bull Brazil 3X Shares, which uses leverage to triple daily gains and losses on its underlying assets, was the top performer among 950 U.S.-listed ETFs of at least $50 million from the Jan. 26 bottom of Brazil's stock market through last week. In the two days since, the ETF has plummeted 26 percent, the worst performance among peers, as investors turned bearish on Latin America's largest stock market.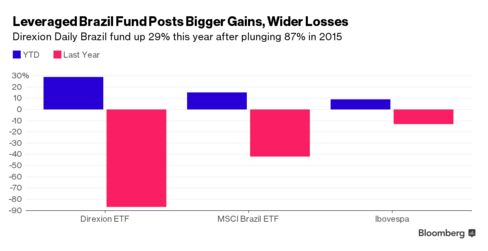 Volatility in Brazilian shares has surged to the highest in more than a year as investors gauge the prospects for efforts to impeach President Dilma Rousseff and usher in a new government that would be better positioned to pull the country out of its worst recession in a century. After the country's stocks, bonds and currency gained on speculation that a corruption investigation was getting closer to the administration, they've tumbled this week on signals that Rousseff's allies are doubling down in their efforts to stay in power.
"This leveraged fund is for very sophisticated traders who are ready to take on excessive risk," said Mohit Bajaj, a director of ETF trading solutions at WallchBeth Capital in New York. "So you can get a lot, but you can also lose all you have."
The Direxion ETF surged 23 percent on March 3, when the Ibovespa entered a bull market after rallying more than 20 percent from its low in January. Its benchmark, the MSCI Brazil 25-50 Net USD Index, gained 6.1 percent on that day and Brazil's local gauge climbed 7.4 percent in dollar terms. Investors have poured $244 million into U.S. ETFs tracking Brazilian stocks this year, the biggest inflow among developing nations.
Before it's here, it's on the Bloomberg Terminal.
LEARN MORE