Sell the Yen Already, SocGen's Juckes Says as Sentiment Improves
Japan's currency led gains among major peers in past 3 months

Long dollar-yen looks like good risk-reward trade, Juckes says
The yen's rally has dominated currency markets for the past three months and for Societe Generale SA, now it's time to "just sell the yen already." Here's why.
The Japanese currency traded at 113.70 per dollar as of 11:30 a.m. Tuesday in Tokyo, at least 1 percent stronger than any of 67 analysts had predicted in December for the first quarter of 2016. Reasons to buy yen mounted from the start of the year as the Bank of Japan's decision to adopt negative rates came amid turmoil in financial markets. As the yen climbed, investors betting on dollar gains versus the Japanese currency were forced to unwind positions, super-charging the move. Many of those drivers are slowly dissipating as the BOJ releases its latest policy decision Tuesday.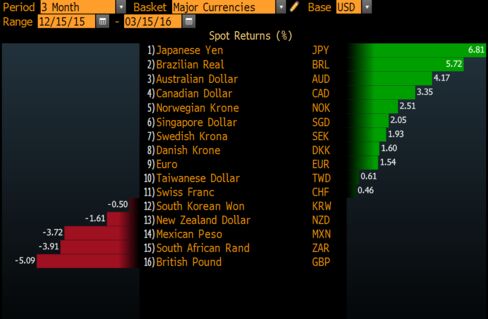 Yen wagers have turned dramatically since the start of December with hedge funds and other large speculators moving from a net bearish position of 74,901 contracts on Dec. 1 to the most bullish bets in eight years as of March 8, according to data from the Washington-based Commodity Futures Trading Commission.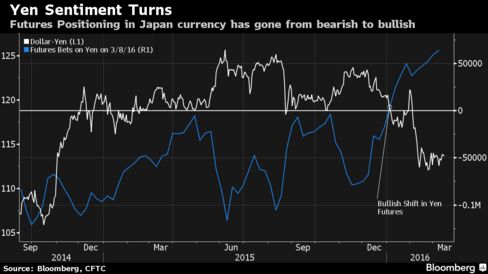 Japan's currency was a favored haven in January and February as equities were sold off. March has brought stability to the market with the Topix index of Japanese stocks climbing more than 6 percent, while volatility among Group of Seven currencies has declined to around average levels for the past year. The BOJ's negative rates decision "in the midst of market turmoil six weeks ago back-fired but the backdrop is different today," Kit Juckes, a global strategist at Societe Generale in London, wrote in an e-mailed report.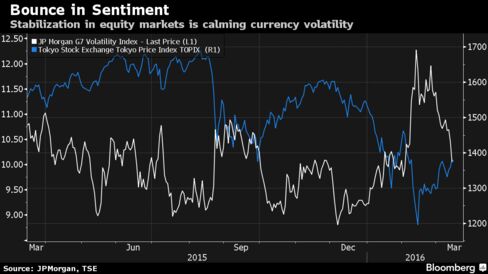 U.S. two-year Treasury yields have climbed about 40 basis points from last month's low as investor expectations build for Federal Reserve rate increases this year. There's a 78 percent chance the Federal Open Market Committee, which meets Tuesday and Wednesday, will raise its benchmark by year-end, up from 30 percent odds a month ago.
"The likelihood of a hawkish tone from the FOMC on Wednesday and the bright underlying tone to risk sentiment makes long dollar-yen look like a good risk-reward trade here," wrote Juckes, who titled his report "Just sell the yen already!"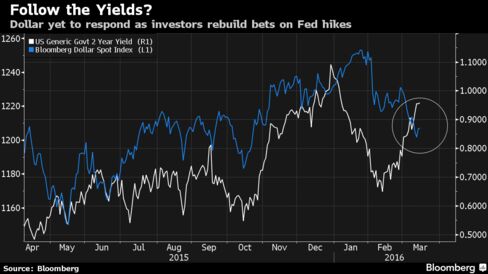 Before it's here, it's on the Bloomberg Terminal.
LEARN MORE