Options Bears Bet Valeant's Worst-Ever Drop Can Go Lower: Chart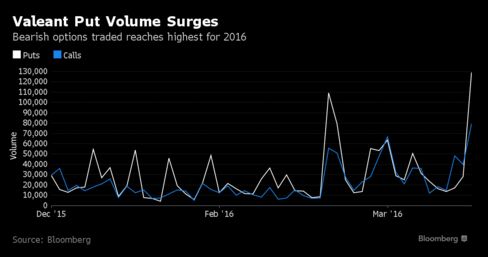 Valeant Pharmaceuticals International Inc. plunged as much as 46 percent on Tuesday, putting the stock on track for its worst day ever. And yet options traders are betting on still deeper declines. At 11:15 a.m. New York time, almost 130,000 bearish options on Valeant stock had already traded -- the highest put volume in 2016 and more than quadruple the average. Some traders also dived into bullish options, sending volume on Valeant calls to almost 300 percent its 2016 mean.
Before it's here, it's on the Bloomberg Terminal.
LEARN MORE