National Bank of Greece Bumped Off 175-Year Top Ranking: Chart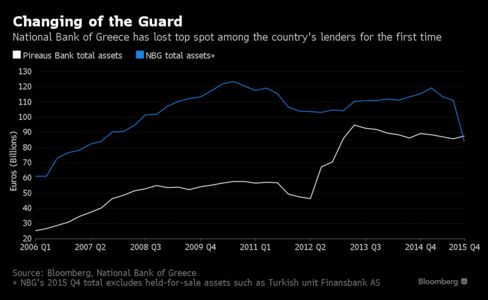 Piraeus Bank SA emerged from full-year earnings as Greece's biggest commercial lender by assets, taking over from National Bank of Greece SA, which held the top spot through its 175-year history. Piraeus, which was in fourth position at the onset of the country's financial crisis in 2009, has more than trebled in size over the past decade as it acquired some of the country's smaller lenders. National Bank's sale of its Turkish unit, Finansbank AS, to Qatar National Bank SAQ means its total assets will drop to 83.8 billion euros ($93 billion), below Piraeus's 87.5 billion euros, according to company filings.
Before it's here, it's on the Bloomberg Terminal.
LEARN MORE