Jefferies Parent Leucadia Slides After Trading Revenue Slumps
Revenue tumbled by almost half from year ago to $299 million

Trading results down 82% on stock, fixed-income decline
Leucadia National Corp. fell as much as 6.2 percent, the most in more than 3 1/2 years, after its Jefferies Group investment-banking unit reported a first-quarter loss on a slide in trading revenue.
Shares of the New York-based company dropped 6 percent to $14.46 at 11:18 a.m., extending this year's decline to 17 percent. Leucadia is down 45 percent since completing its acquisition of Jefferies in March 2013, the worst performance in the 90-company Standard & Poor's 500 Financials Index.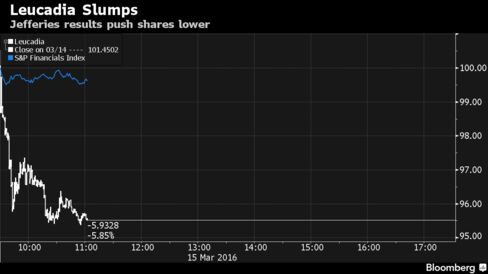 Jefferies's loss for the fiscal first quarter ended Feb. 29 was $166.8 million as revenue from trading stocks and bonds tumbled 82 percent, the company said in a statement. Revenue plunged by almost half from a year earlier to $299 million.
"We are humbled by Jefferies's quarterly loss and will strive to deliver the better results that our shareholders deserve and Jefferies is more than capable of achieving," Chief Executive Officer Richard Handler, 54, said in the statement. He said trading has improved since early February.
"It appears markets have not only stabilized, but aggressively snapped back," Handler said, citing record high-yield inflows, stabilizing hedge funds and rebounding equity and commodity markets.
JPMorgan, Citigroup
Trading results at Jefferies are closely watched by Wall Street for signs of how larger investment banks whose quarters end a month later will fare. Firms including JPMorgan Chase & Co. and Citigroup Inc. have been warning investors that markets were difficult at the start of this year. Low interest rates, plunging commodity prices and volatile stock markets prompted customers to pull back.
JPMorgan dropped 0.9 percent and Citigroup was down 1.6 percent, compared with a 1 percent decline for the S&P financials index.
Jefferies's first-quarter revenue from trading stocks and bonds dropped to $58.5 million as fixed-income slid 55 percent and equities declined 99 percent.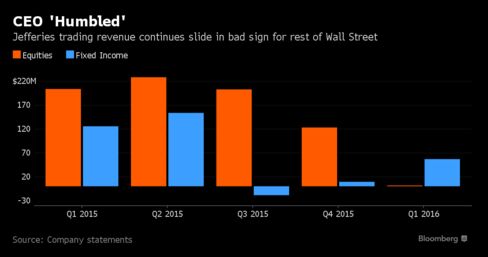 Revenue in the investment-banking division dropped 15 percent to $230.9 million. Many capital-markets deals were postponed because of what Handler described as "an exceptionally volatile and turbulent market environment during our first fiscal quarter." Revenue from equity capital markets declined 44 percent to $44 million from a year earlier and debt capital markets dropped 5.9 percent to $57.3 million.
Jefferies "really seems to need the markets to improve to recover its swagger," David Havens, a debt analyst at Imperial Capital, said Tuesday in a note. "Market conditions really were terrible, and Jefferies was bedeviled by some chunky losses in its equities business."
Before it's here, it's on the Bloomberg Terminal.
LEARN MORE