The Strawberry Mansion section of North Philadelphia, named for a summer house built for a federal judge in the early days of the Republic, was once home to the city's wealthiest families. Today, 48 percent of the area's households earn less than $15,000 a year, and the median home value is about $58,000.
Even in a city with more than 40,000 vacant lots, Strawberry Mansion stands out for its moonscape of blighted parcels. "It's just poverty, really," said Keith Green, an associate director of landscape management at the Pennsylvania Horticultural Society, as he surveyed the rubble of a demolished building on a recent tour.
Beneath that blunt explanation is a series of problems common to plenty of older U.S. cities. Philadelphia shed industrial jobs in the second half of the 20th century, leaving homeowners unable to maintain an aging housing stock. The city demolished abandoned buildings, creating vacant lots, which researchers have linked to lower nearby property values and higher crime rates -- leading more residents to abandon their homes.
Since 2003, the Pennsylvania Horticultural Society has turned 8,000 of Philadelphia's vacant lots into simple parks, making it an unlikely player in the city's battle with urban decay. Founded in 1827 by a group of gentleman farmers, the organization is best known for hosting the world's largest indoor flower show. At this year's Philadelphia Flower Show, which finished its nine-day run on Sunday, visitors were greeted by a 12-foot waterfall, a statue of a buffalo, and the sweet smell of hyacinths, crocuses, and other forest flowers.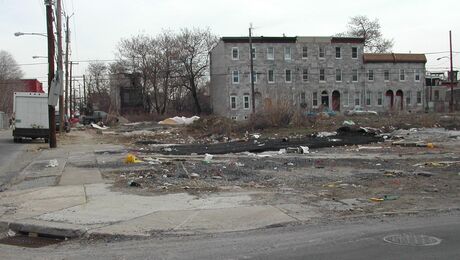 The exhibition included demonstrations for backyard gardeners and landscaping pros, but it's better understood as horticulture as art, or even theater. This year's show took its theme from the U.S. national parks and included exhibits like "Gardening Inspirations From the Smoky Mountains." Last year's show was inspired by Walt Disney.
There's no obvious reason a nonprofit group that fills a convention center with ornate plantings should have taken on urban blight. PHS started investing in urban renewal projects in the 1970s, building community gardens. Over time, it discovered it's hard to sustain a community garden in a neighborhood that's falling apart. It still invests in such projects but has broadened its mission.
"We felt that we had an obligation to support the neighborhood with gardening information but also by improving the conditions in their neighborhoods," said Bob Grossmann, who runs LandCare, the PHS vacant-lots program.
These aren't just Philadelphia problems. Former industrial hubs from Buffalo, New York, to New Orleans are grappling with problems that stem from population declines. The U.S. Treasury Department has allocated hundreds of millions of dollars to tearing down vacant houses in Flint, Michigan, in Memphis, and in other cities, on the theory that knocking down abandoned homes can help stabilize neighborhoods and prevent foreclosures. Demolishing homes can boost nearby property values. It also creates more empty lots, posing a thorny problem in places where there's little interest in building new homes.
"You have some neighborhoods where people are building houses on vacant lots," said Terry Schwarz, who has studied Cleveland's blight in her role as director of the Urban Design Collective at Kent State University. "Other neighborhoods have no functioning real estate market at all."
Academic research on LandCare has helped popularize the approach. A 2007 paper published by Wharton professor Susan Wachter showed that greened lots increased the values of adjacent homes by 17 percent. An article last year in the American Journal of Public Health found that the sight of such lots helped lower the heart rates of passersby, indicating that clearing blight may be a path to reducing stress. That has led cities across the Rust Belt—Schwarz calls it the "brotherhood of blight"—to adopt aspects of the PHS program. Most recently, Baltimore has won state funding to tear down 4,000 vacant row houses and replace them with temporary parks.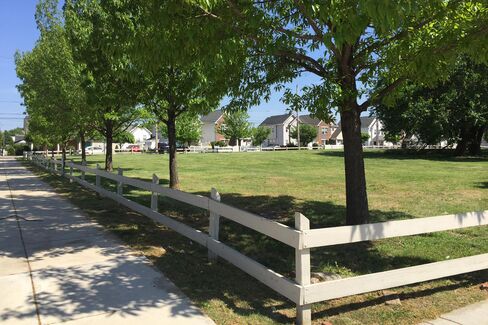 There are a lot of ways to build a park, even on the cheap. In September, the National Forest Service published a 112-page "pattern book," a how-to guide for Baltimore community groups interested in building urban farms, neighborhood parks, and stormwater management systems. When Grossmann began experimenting with greening vacant lots in the late 1990s, he hit upon a basic formula: grass, trees, and wooden post-and-rail fences that proved more inviting than chain link.
Since then, PHS has turned more than 250 acres of empty lots into green spaces at a cost of about $1 a square foot. The organization receives money from the city government to buy soil and trees in bulk, then hires local contractors to build new parks and maintain old ones.
The parks, said Grossmann, are seen as interim spaces, to be replaced by new development. This spring, PHS plans to treat 3,000 lots, including 600 owned by the Philadelphia Housing Authority, an affordable-housing agency. That includes a vacant corner lot across the street from a Pentecostal church in the Cecil B. Moore section of town, named after a civil rights activist, where people have been dumping trash in a sunken foundation. One day, the owner may use the land to build affordable housing; for now, it just wants to stop the blight from getting worse.
There are wide conceptual gaps between the ruins of the city's industrial past, a convention center filled with show gardens, and the hope for a better future. Here's how Grossmann tries to bridge them: "In gardening, you have to be optimistic to think you can change things to make them more beautiful." LandCare represents a simple form of horticulture, while the flower show, which helps raise money for PHS, represents high art.
"We like to think of it as our elaborate bake sale," he said.
(
An earlier version of this article misspelled the name of Terry Schwarz.
)
Before it's here, it's on the Bloomberg Terminal.
LEARN MORE