Valeant Disclosures Awaited by Holders Seeking Good News: Chart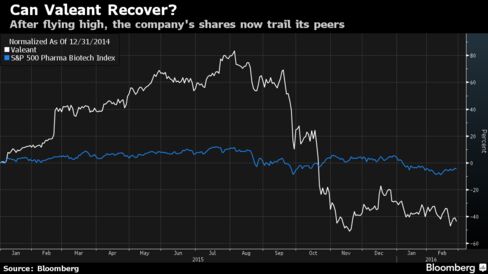 Valeant Pharmaceutical International Inc.'s U.S. shares have plunged more than 70 percent since last August as the embattled company has grappled with accusations about its business practices, an investigation by the U.S. Securities and Exchange Commission and the hospitalization of Chief Executive Officer Michael Pearson. Valeant releases its delayed fourth-quarter earnings on Tuesday in Pearson's first public appearance since his return last month. Investors will be seeking information about the company's delayed annual 10-K filing, updates to its sales forecasts and any results from an ongoing internal probe.
Before it's here, it's on the Bloomberg Terminal.
LEARN MORE