Turkish Stocks Cap Best Streak Since 2012 as Risk Appetite Grows
Benchmark equity gauge defies bomb blast to gain 11th day

Government bonds advance for 5th day; Lira depreciates
Turkey's stocks posted the longest rally in almost four years as a suicide bombing in Ankara did little to deter investors betting the country stands to gain from renewed appetite for emerging-market assets.
The Borsa Istanbul 100 Index climbed 0.9 percent at the close, extending its winning streak to 11 days. That last happened in June 2012, and the gauge has only once risen 12 straight days, in 1993. The yield on 10-year government bonds dropped a fifth day to 10.12 percent, the lowest since December.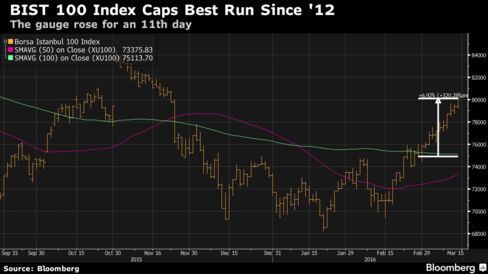 Waning concern that the global economy is headed for a recession as central banks remain committed to stimulus measures has revived demand for higher-risk assets, pushing an index of developing nation stocks to within 3 percent of a bull market. That's helped drive up Turkish equities by 12 percent this year, erasing losses incurred after the nation downed a Russian jet near the Syrian border in November.
"For the markets, geopolitical risks are mostly short-term noise, unless a major development affects the real economy," said Akin Tuzun, a Moscow-based equities analyst at VTB Capital. "The Federal Reserve and European Central Bank seem to continue being the main catalysts for Turkish stocks. "
Historical Rallies
At least 37 people were killed by a suicide car bomb in Turkey's capital, Ankara, on Sunday. It was the third attack in five months, adding to growing security concerns in the country's $720 billion economy, where the government is struggling to prevent regional instability and violence in the southeast from spilling into key cities.
Turkey's stock gauge has gained 6.9 percent in the past 11 days. It added 6.1 percent during the rally in 2012, a year in which it advanced more than 50 percent. In 1993, the index rose five-fold.
Turkcell Iletisim and Akbank TAS led the gains on Monday, as the 14-day relative strength index of the Borsa 100 climbed to 77, the highest since December 2014. A level above 70 signals to some analysts that a measure is overbought and poised to decline.
Stock and bond gains were in contrast to the lira, which weakened 0.3 percent to 2.8758 per dollar at 6:15 p.m. in Istanbul.
Before it's here, it's on the Bloomberg Terminal.
LEARN MORE