The Ides of March Are Dangerous to Muni-Bond Investors: Chart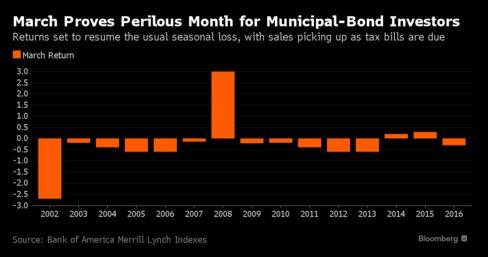 After U.S. bond prices slipped over the past two weeks, the $3.7 trillion municipal market is doing what it tends to do each March: deliver losses to investors, who typically unleash a wave of selling to cover annual tax bills due by the mid-April deadline. It's delivered a negative return of 0.31 percent this month, putting it on track for the 12th March loss since 2002, according to Bank of America Merrill Lynch data. In William Shakespeare's play "Julius Caesar," the Roman emperor ignored warnings to "beware the Ides of March," a traditional time to settle debts.
Before it's here, it's on the Bloomberg Terminal.
LEARN MORE