Russian Rally Falters as Investors Eye Bank of Russia and Fed
Ruble to trade around 70 vs dollar until Fed meets: Rabobank

RenCap says bonds overpriced, Russia rate pause will continue
Russia's ruble and government bonds retreated as falling oil prices weighed on a month-long rally and investors watched for signs the U.S. will sap demand for emerging-market assets by signaling faster interest-rate increases later this week.
The currency weakened 0.1 percent to 69.96 on Monday in New York after strengthening almost 14 percent in the month through Friday and beating all other major emerging markets. Government bonds, which began a rebound after the ruble's historical fall to 85.999 on Jan. 21, now look overpriced, according to analysts at Morgan Stanley and Renaissance Capital. The ruble pared its loss after President Vladimir Putin ordered the "main part" of Russia's military force to begin to withdraw from Syria, saying it has completed its main objectives.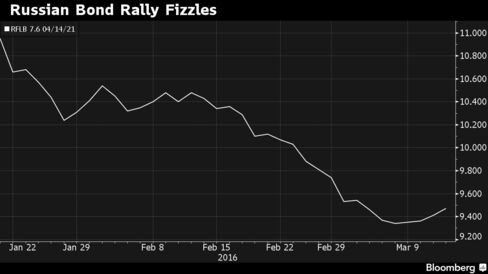 The U.S. Federal Reserve's two-day policy meeting through Wednesday may drain demand for higher-yielding assets like the ruble, depending what clues it gives about the pace of interest-rate increases. At the same time, Russian policy makers led by Elvira Nabiullina are expected to leave borrowing costs unchanged at 11 percent when they meet Friday, which may provide support for the local currency.
"Scope for the ruble's further gains may prove limited with focus shifting to the crucial risk event this week -- the Fed's meeting -- followed by the Bank of Russia's interest rate decision," said Piotr Matys, an emerging-market currency strategist at Rabobank in London. The currency may trade around 70 per dollar "until the Fed reveals its intention regarding the path of monetary policy tightening and the central bank announces its decision," he said.
Rate Risk
Brent crude fell 1.9 percent to $39.61 after Iran said it wouldn't join the world's largest oil producers in an accord that would ease a supply glut. A meeting among major producers to cap output at January levels is no longer expected to take place this month, according to four OPEC delegates. The commodity has rebounded from a 12-year low of $27.88 per barrel on Jan. 20.
Five-year sovereign bonds declined, sending the yield nine basis points higher to 9.5 percent. Russia's OFZ bonds have returned 9.2 percent this month, the most in emerging markets after Brazil, according to data compiled by Bloomberg.
Overdone Gains
Even as derivatives traders increased wagers for lower rates in the next three months, Morgan Stanley and Renaissance Capital said bond gains are overdone. Oleg Kouzmin, a former central bank adviser who is now an economist at RenCap in Moscow, said oil prices at about $40 a barrel would allow policy makers to put off a resumption of rate cuts until at least the second half of the year.
"We think these risks are not properly priced in current bond valuations," Kouzmin said in a note to clients. "Some correction post the recent rally looks likely to us."
Forward rate agreements showed bets for a 74 basis-point reduction in the next three months, the biggest wagers so far this year. Out of 41 economists surveyed by Bloomberg, only six expect a 50 basis point cut on Friday, while the rest expect no change to the 11 percent key rate.
OFZs look "very expensive as they have priced in an immediate and aggressive easing cycle, which we don't expect," Morgan Stanley analysts including Min Dai said in a note to clients. Morgan Stanley recommends investors underweight Russian government bonds.
The Micex Index of stocks dropped 0.6 percent to 1,865.31. Moscow Exchange PJSC was added to the Market Vectors Russia gauge and E.ON Russia was removed, with the changes due to take effect March 18, according to the index provider's website.
Before it's here, it's on the Bloomberg Terminal.
LEARN MORE