Rajoy's PP Mulls Open Vote on Leader as Pressure Builds in Spain
Former Prime Minister Aznar leading calls for direct vote

Current system allows party establishment to shape result
Mariano Rajoy's People's Party should shift to a more open voting process next time it has to choose a leader, according to a senior party official.
The PP should shift to a one-member-one-vote system from the current set-up, which sees provincial delegates decide who should lead the party, said Pablo Casado, the group's undersecretary for communications, joining calls from the former premier Jose Maria Aznar to make the party more democratic.
The existing system allowed Aznar to handpick Rajoy, now the caretaker prime minister, as his successor in 2003 because the regional delegates are incentivized to follow the lead of the party establishment to avoid damaging their own prospects for advancement. Now Aznar is the most senior party figure trying to loosen Rajoy's grip on power amid mounting evidence that he's driving away voters.
"Nowadays any election has to be one-member-one-vote," Casado, 35, said in a March 11 interview in the party's headquarters in downtown Madrid. "It's positive, and also it has been done already" in some of the group's regional chapters such as the Balearic Islands, he said.
Corruption Cases
Rajoy is insisting that he will head the party ticket for a fifth time if Spain goes to a fresh general election in June. He lost his first two elections before securing a record majority in 2011. In December, he won the most votes, but lost a third of his party's lawmakers with the PP's worst showing in 26 years and has failed to attract any allies to help him form a majority.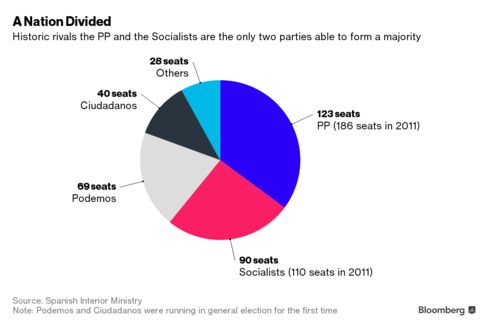 The PP's ability to lure voters has been hurt by more than two dozen corruption cases involving party officials at local and national level. Rajoy himself was accused of accepting illegal cash payments while he was opposition leader. He denies any wrongdoing.
Spain is set for new elections on June 26 unless someone can put together a governing majority by May 2. Socialist leader Pedro Sanchez lost two confidence votes in parliament earlier this month after Rajoy's PP voted alongside anti-austerity group Podemos to block his candidacy.
A day after the election in December, Aznar addressed the PP's executive committee to ask an "open" congress that would allow the "members to define the future of our project and the choose the party's direction," according to the transcription of his remarks on his personal website. Pro-market research group Floridablanca has been campaigning for an open congress when visiting party activists across Spain over the past year.
"Rajoy isn't against" bringing in the direct vote, said Casado. He just says that "it has to be a decision of the People's Party membership."
Before it's here, it's on the Bloomberg Terminal.
LEARN MORE