Pound Halts 2-Week Rally as Traders Await Steer From Budget, BOE
Sterling retreats from one-month high vs dollar reached Friday

Government may announce fiscal tightening: CIBC's Stretch
The pound halted its two-week advance against the dollar as investors waited for clues from the Bank of England and the government on the economy's outlook.
Sterling reached its highest level versus the greenback since mid-February on March 11, when it also posted its biggest gain against the euro since January. Traders are looking toward U.K. Chancellor of the Exchequer George Osborne's annual budget presentation on March 16, and the next day's Bank of England rate decision and meeting minutes.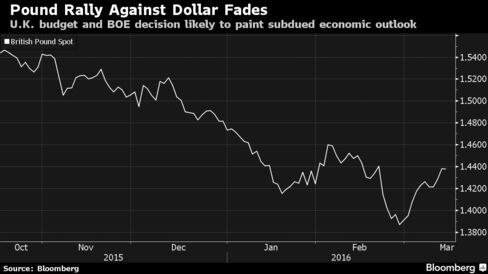 The outlook for sterling is threatened by the prospect of Britain voting to leave the European Union in the June 23 referendum. Hedge funds and other speculative investors were the most bearish on the pound since July 2013, according to latest data from the Commodity Futures Trading Commission in Washington for the week ended Mar. 8.
Sterling's jump in recent days "looks a little overdone," said Jeremy Stretch, the London-based head of foreign-exchange strategy at Canadian Imperial Bank of Commerce.
"No doubt Osborne is teeing up the markets for some degree of further fiscal tightening," Stretch said. That's concerning and "may well have a bit of an impact on some of the thought process on the Bank of England."
'Economic Paralysis'
Stretch said the BOE could be "mindful of some degree of economic paralysis into the 'Brexit' vote as well which might encourage more of a dovish tone." If the pound definitively broke below the $1.4350 level, it could weaken to $1.41-$1.4110 later this week, he said.
Sterling fell 0.3 percent to $1.4336 as of 4:12 p.m. London time. It climbed 3.7 percent over the last two weeks, reaching $1.4437 on Friday, its highest since Feb. 16. The pound was little changed at 77.55 pence per euro, having reached 76.52 pence last week, its strongest since Feb. 4.
Forward contracts based on the sterling overnight index average, or Sonia, aren't fully pricing in a 25 basis-point boost to interest rates until 2017 at the earliest. The odds the Fed will follow December's increase with another in 2016 are 77 percent, futures prices compiled by Bloomberg indicate.
U.K. government bonds ended two straight weeks of declines, with the 10-year gilt yield falling two basis points, or 0.02 percentage point, on Monday to 1.55 percent. The 2 percent security due in September 2025 climbed 0.20, or 2 pounds per 1,000-pound face amount, to 103.925.
Before it's here, it's on the Bloomberg Terminal.
LEARN MORE