Canada Stocks Fall as Energy, Metals Producers Drop With Prices
Oil futures retreat from 3-month high as Iran resists freeze

Valeant shares slip as drugmaker prepares for earnings call
Canadian stocks slipped, retreating from the highest level this year, as energy producers tumbled with the price of crude after Iran refused to join a freeze in production before increasing output to pre-sanctions levels.
The Standard & Poor's/TSX Composite Index fell 0.3 percent to 13,477.54 at 4 p.m. in Toronto, after reaching a Dec. 1 high and capping a second weekly increase last week. The resurgent S&P/TSX is one of the best-performing developed markets in the world this year, vying with New Zealand for the top spot, while posting returns ahead of the U.S., Germany and U.K.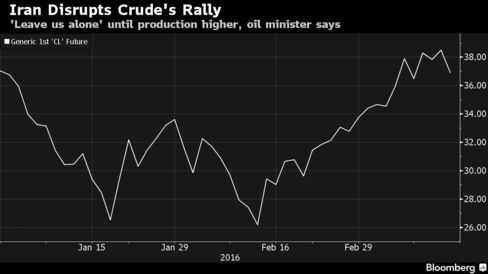 Canada's equity benchmark has benefited from the recent rebound in commodities prices, from crude to copper and precious metals, with raw-materials producers leading gains in the S&P/TSX with a 21 percent rally this year. The index has clawed back rapidly after entering a bear market in January and subsequently tumbling to a 2013 low. A slide in 2015 resulted in the worst annual performance since the financial crisis.
Shares in the Canadian gauge now trade at about 21.4 times earnings, roughly 17 percent more expensive than the valuation of the benchmark U.S. equity index, the Standard & Poor's 500 Index, data compiled by Bloomberg show.
Raw-materials and energy producers dropped at least 0.9 percent, the most in the S&P/TSX as six of 10 industries retreated on trading volume 7 percent lower than the 30-day average. Goldcorp Inc. and Detour Gold Corp. declined more than 3 percent as gold in the spot market fell for the fifth time in six sessions on a strengthening dollar. Oil producers Enbridge Inc. and Crescent Point Energy Corp. lost at least 2.3 percent.
Crude futures dropped in New York, falling from a three-month high. Iran plans to boost output by about a third to 4 million barrels a day before it will consider joining any move to rebalance the market, the Iranian Students News Agency reported, citing Oil Minister Bijan Namdar Zanganeh.
A meeting of major oil producers among the Organization of Petroleum Exporting Countries to discuss the production freeze is now expected to occur in April, according to four Gulf OPEC delegates. Ministers from some members had previously suggested the meeting would take place in March.
Veresen Inc. sank 7 percent, the most in two months, after U.S. regulators denied its application for a $5.3 billion liquefied natural gas export terminal in Oregon and BMO Capital Markets downgraded the stock on the unexpected news.
Cascades Inc. tumbled 10 percent, to a September low, as the paper-products company forecast a drag this year from foreign-exchange effects and higher capital spending as it expands its box-making operations.
Valeant Pharmaceuticals International Inc. slipped 0.6 percent as the drugmaker prepares to discuss its long-awaited fourth-quarter results and provide 2016 guidance March 15. Shares of Valeant have plunged almost 75 percent from an August peak as regulators and lawmakers have scrutinized the company's operations.
Before it's here, it's on the Bloomberg Terminal.
LEARN MORE