Greens Recapture Biggest Prize With First German State Victory
Party beats Merkel's CDU in Baden-Wuerttemberg to keep control

Greens take state on popular backing for prime minister
Germany's Green party for the first time won a state election outright, capturing the most votes in Baden-Wuerttemberg to lay claim to govern the southwestern region for another five years.
Support for the Greens in the state, the biggest of three that voted on Sunday, was 30.7 percent, followed by 27.3 percent for German Chancellor Angela Merkel's Christian Democratic Union, according to projections from public broadcaster ZDF as of 8:09 p.m. local time. While the Greens dislodged the CDU in the last election in 2011, they did so after placing second and forging a coalition with the third-placed party.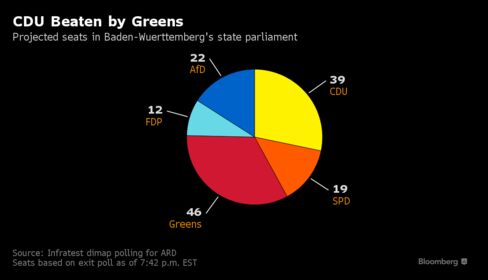 The state -- boasting the country's lowest unemployment, fine wines, the fabled Black Forest and the home of Porsche and Mercedes-Benz -- was run by the CDU for 58 years until the Greens took control in a proxy ballot on Merkel's about-face on nuclear power in the wake of the nuclear accident in Fukushima, Japan. Even as late as January, the CDU appeared on track to recapture the state. The Greens were aided in their win Sunday by the popularity of their regional leader and state premier, Winfried Kretschmann.
"Baden-Wuerttembergers made history tonight by making the Greens the strongest force in the state," Kretschmann told supporters in the regional capital of Stuttgart. "I see a mandate in this vote to form another government in Baden-Wuerttemberg and to claim the office of the premier."
Even 87 percent of CDU supporters say Kretschmann is doing a good job, and 77 percent of all voters in the state say five years of a Green-led government hasn't hurt the local economy, according to Infratest Dimap polling for ARD.
Before it's here, it's on the Bloomberg Terminal.
LEARN MORE