Time to Go Local in Argentina as 38% Yields Have BofA Saying Buy
Central bank is boosting interest rates to tame inflation

Argentina's dollar bond yields tumbled after creditor accords
As Argentina's peso weakens and its inflation rate tops 30 percent, many foreign investors naturally regard the country's local bond market as off limits. That's a mistake as far as Balanz Capital and Bank of America Corp. are concerned.
President Mauricio Macri's settlements with holdout creditors have buoyed investor confidence in Argentina, helping push yields on some of the country's dollar-denominated debt to record lows. But some of its peso bonds boast yields of about 38 percent as the central bank ratchets up a key interest rate to tame inflation.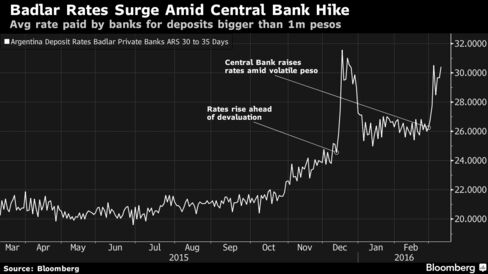 To Balanz CIO Walter Stoeppelwerth, investors stand to profit as the push to rein in the cost of living will pay off in the second half of the year, bolstering bond returns. And while he recommends hedging the peso, Stoeppelwerth said it may not be necessary in the short term because the currency could strengthen in coming months as April's soybean harvest spurs an inflow of dollars.
"Even with inflation and volatility, you're protected," Stoeppelwerth said from Buenos Aires. "People will be compensated for holding the bonds through capital gains."
Stoeppelwerth, who moved to Argentina in 2014 after stints as a money manager at Tiedemann Investment Group and Triogem Asset Management, recommends the central bank's notes as well as buying floating-rate peso bonds due in 2018 and 2020. The securities, which are tied to the local deposit rate known as Badlar, both yield about 33 percent.
So-called floaters and bonds that are linked to yields on central bank notes are also among Bank of America's top picks. Analysts Claudio Irigoyen and Ezequiel Aguirre recommend hedging as they expect the peso to weaken throughout the year.
Consumer prices rose 32.9 percent in February from a year earlier, based on the Buenos Aires City gauge that the federal government is using while it overhauls the national statistics agency after years of alleged misreporting.
"The main risk to these instruments is a significant decline in local interest rates," Irigoyen and Aguirre said in a Feb. 22 report. "But since inflation is around 30% it is highly unlikely local rates will decline in the near term."
Before it's here, it's on the Bloomberg Terminal.
LEARN MORE