Shkreli's Bankrupt Drug Company Gets Offer From Hedge Fund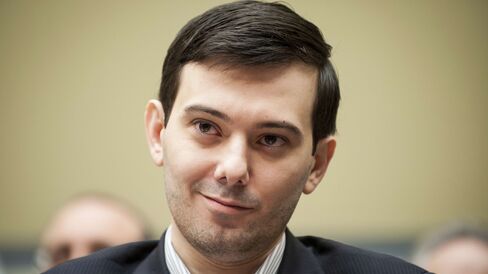 Hedge Fund Black Horse Capital proposes putting up $10 million

Deal depends on limiting indicted former CEO's voting power
KaloBios Pharmaceuticals Inc., the drug company that plunged into bankruptcy after the arrest of its former Chief Executive Officer Martin Shkreli, is getting some help for its plan to buy a treatment for Chagas disease.
Hedge fund Black Horse Capital LP offered to buy at least 40 percent of the company for $10 million on the condition that Shkreli holds no more than 20 percent of KaloBios's voting shares, according to a filing Thursday in Delaware bankruptcy court.
Shkreli had owned about 50 percent of the stock before the bankruptcy. At least a substantial portion of his stake was used to secure his $5 million bail after he was charged with securities fraud in December.
The proposal, which must be approved by a judge, would allow KaloBios to buy rights to the drug benznidazole from Savant Neglected Diseases LLC. Under conditions of the deal, KaloBios must have $10 million in unencumbered cash when it exits bankruptcy protection.
Black Horse's offer would represent the opening bid in a court-supervised auction for a stake in the drugmaker and the right to fund the reorganization. Bid procedures go up for court approval March 21.
Price Increase
Shkreli, 32, became notorious when the company he started, Turing Pharmaceuticals AG, bought the rights to a treatment for a potentially deadly parasitic infection and raised the price to $750 per pill from $13.50. Health-care advocates feared similar increases were in store for the Chagas drug when KaloBios announced plans to acquire it shortly after a Shkreli-led group bought a majority stake in the company in November. Chagas disease is a parasitic infection common in Central and South America.
In December, Doctors Without Borders spoke out against KaloBios's plans for the drug, which the group said involved obtaining expedited U.S. regulatory approval through a program for neglected diseases and then charging "a high price." At the time the company was contemplating raising the price from about $100 per treatment to a level comparable with a Hepatitis C drug, which costs tens of thousands of dollars per treatment regimen.
"Buying rights to a 40-year-old drug to obtain a lucrative reward created to promote biomedical research and development, and then raising the price of that drug, is not innovation," said Judit Rius Sanjuan, legal policy adviser for the group. "It is an abuse of a U.S. government program designed to bring much-needed medicines to neglected people."
Stepped Down
KaloBios says Shkreli is no longer in control of the company. He stepped down as CEO of Turing and was fired from KaloBios after his arrest. Shkreli has pleaded not guilty to the charges against him.
Ben Brafman, a lawyer for Shkreli, declined to comment for this story.
Black Horse is managed by biotech investor Dale Chappell of Charlotte, North Carolina, according to SEC filings. Lawyers for KaloBios said in their filing Thursday that Black Horse was among the first potential investors to step forward after the company's bankruptcy filing Dec. 29, and has been discussing a possible deal since late January. Chappell didn't immediately respond to a call seeking comment.
About 100 other investors have expressed interest, although lawyers for KaloBios said that an "unfortunate linkage with Mr. Shkreli" has caused "some parties to shy away from this potential investment or move more slowly in considering this opportunity than they otherwise would."
Shkreli Connection
"Despite the fact that Martin Shkreli's tenure as an officer or director of the debtor lasted less than month from late November to mid-December 2015, the debtor is mindful that it continues to be connected with Mr. Shkreli to some extent in the media," lawyers said in the filing.
Shkreli, once referred to by subordinates as a "boy genius" and later labeled by some media as the "most hated man in America," was arrested at his Manhattan apartment on Dec. 17 and accused of fraud. Federal prosecutors in Brooklyn, New York, alleged he lied to investors who lost money in hedge funds he ran and then used sham consulting arrangements and other side deals to pay them off using assets from a drug company he founded, Retrophin Inc. Retrophin ousted Shkreli as CEO in 2014 and is suing him over similar claims.
Known for his colorful social media presence, Shkreli called lawmakers "imbeciles" on Twitter after he appeared in February at a Congressional hearing on drug pricing. Shkreli, whose attendance was required under a subpoena, refused to answer questions and cited his constitutional privilege against self-incrimination.
The Chapter 11 case is KaloBios Pharmaceuticals, 15-12628, U.S. Bankruptcy Court, District of Delaware (Delaware).