Hedge Funds Boost Bets on Yen Strength to Highest Since 2008
Currency has gained versus 15 of 16 major peers this year

Speculators pare wagers on dollar gains to lowest since 2014
Hedge funds and other large speculators increased wagers on yen strength to the highest in eight years before the Bank of Japan meets to discuss monetary policy next week.
Positions that profit from gains by the currency exceeded those that gain from a slump by a net 64,333 contracts in the week ended March 8, a report from the Commodity Futures Trading Commission showed Friday. That's up from 59,625 contracts a week earlier.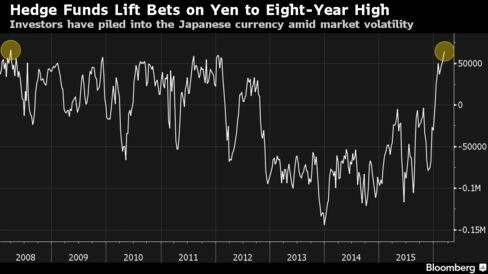 The yen has rallied against 15 of its 16 major peers this year, benefiting from a spell of risk aversion that roiled financial markets on concern China's slowdown may damp global economic growth. The currency shook off a central-bank decision to cut interest rates into negative territory in January, forcing strategists including Barclays Plc, the world's third-largest currency trader, to change their forecasts. Barclays shifted its year-end estimate to 95 yen per dollar, from 120. The Bank of Japan meets March 15.
"The main driver has been risk, as the yen is the standard safe-haven asset," said Juan Prada, a foreign-exchange strategist at Barclays in New York. "The yen was also extremely undervalued and, with the recent appreciation, it's recovering," he said, adding that positioning for gains has room to extend further.
Large speculators have increased bets on the yen in 14 of the past 16 weeks, CFTC data show. At the same time, hedge funds have scaled back bets on the U.S. dollar to the least since July 2014.
Before it's here, it's on the Bloomberg Terminal.
LEARN MORE