The End of Brazil's Drought Is a Problem for Sao Paulo's Biggest Power Company
Eletropaulo said Feb. 24 its leverage ratio rose to 3.47 times

Moody's downgraded the power company's ratings a day later
The end of Brazil's worst drought in eight decades is poised to translate into lower electricity bills for residents. But it may spell trouble for Eletropaulo Metropolitana SA, the biggest power company in Sao Paulo.
Last month, the government said it's removing a surcharge for the use of thermal power that it imposed when hydroelectric dams weren't capable of fully supplying the country with water. The move may reduce the cost of power by as much as 6.5 percent, according to a report in Exame website.
That's a problem because Eletropaulo can ill-afford any hit to its revenue. The company is dangerously close to violating a local bond agreement and Brazil's worst recession in a century is crimping electricity demand. The company, which is a unit of AES Corp., said Feb. 24 that its debt-to-earnings ratio rose to 3.47 times at the end of 2015. Its 2.872 billion reais ($791.99 million) of bonds require that Eletropaulo's leverage ratio not fall below 3.5 times for two consecutive quarters. On Feb. 25, Moody's Investors Service cut Eletropaulo's junk rating amid a wave or corporate downgrades that followed a reduction to the sovereign's classification and kept a negative outlook on the grade.
"It's a very serious situation," Adeodato Volpi Netto, head of capital markets at Eleven Financial Research, said from Sao Paulo. "Of course the company can request a waiver, but, for that, it has to show creditors it has a good plan to improve its financial situation. And that's not obvious, considering that Brazil's economic activity is also declining."
In an e-mailed statement, Eletropaulo said it's not currently negotiating with its creditors.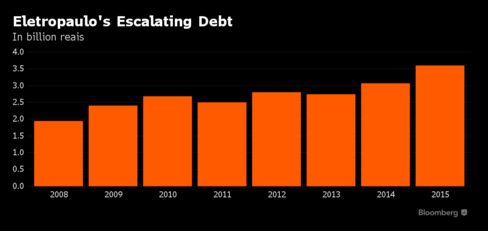 Before it's here, it's on the Bloomberg Terminal.
LEARN MORE