ECB Alchemy Makes Italian Bonds AAA for This Money Manager
ECB announced expansion of QE, rate cuts, new loans program

Italy ranked nine levels below top credit rating at S&P
Mario Draghi's latest easing measures mean, for one investor, Italian and Spanish bonds are now no different to Germany's.
Eric Vanraes, who helps manage $2.6 billion of assets at EI Sturdza Investment Funds, says that the European Central Bank president's stimulus measures on Thursday made the government bonds of Italy and Spain effectively as credit-worthy as top-rated German debt, meaning investors should buy the higher-yielding securities of Europe's so-called periphery.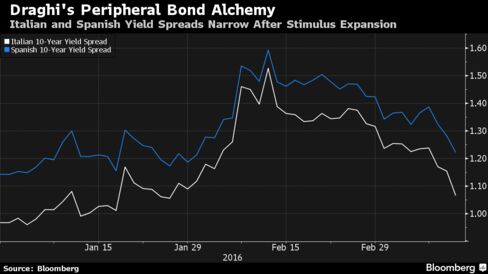 The central bank cut all of its main interest rates, announced a 20 billion-euro ($22 billion) monthly increase in quantitative easing that for the first time opens the door to purchases of corporate bonds and revealed a new four-year loan program.
"The periphery is AAA since yesterday," said Geneva-based Vanraes. "Periphery is bund. It's not a free lunch but it's almost a free lunch."
The ECB has already bought a combined 165 billion euros of Italian and Spanish debt since the start of its asset purchases through February. Italy's government bonds are currently rated BBB- by Standard & Poor's, nine grades below the top ranking, while Spain's are rated two steps higher at BBB+. In the euro-area only Germany, Luxembourg and the Netherlands hold the coveted AAA grade at all of the three largest rating companies that implies highest level of credit worthiness.
Spreads Narrow
The additional yield investors demand to hold Italian 10-year bonds over German bunds decreased for a third day on Friday, falling to 106 basis points at the 5 p.m. London close. That's the least since January, according to closing-price data. The spread has narrowed from more than 550 basis points in 2011.
The Spanish-German 10-year yield spread narrowed to 121 basis points on Friday, down from 128 basis points at the end of last week.
Vanraes manages the EI Sturdza Strategic Global Bond Fund, which is beating 75 percent of peers so far this year with a 1.5 percent return, according to data compiled by Bloomberg. The fund lost 0.1 percent in the past year, outperforming 70 percent of peers.
"Draghi promised a bazooka and he came with a bazooka," he said. "We should increase allocation to the periphery now."
Before it's here, it's on the Bloomberg Terminal.
LEARN MORE