Deutsche Bank Cuts Bonus Pool 11% as Cryan Spreads Legal Costs
Bank to pay 2.41 billion euros of bonuses for last year

Cryan seeking to cut costs, boost profitability at lender
Deutsche Bank AG, which runs Europe's biggest investment bank, cut its bonus pool by 11 percent after rising legal expenses hurt earnings last year and said volatility in financial markets means the first quarter may be challenging.
The company will pay 2.41 billion euros ($2.69 billion) of bonuses for last year, down from 2.71 billion euros, it said in a statement from Frankfurt on Friday. Variable compensation at the investment banking and trading unit fell 15 percent to 1.45 billion euros. At constant exchange rates, the declines were 17 percent and 20 percent, respectively, Deutsche Bank said.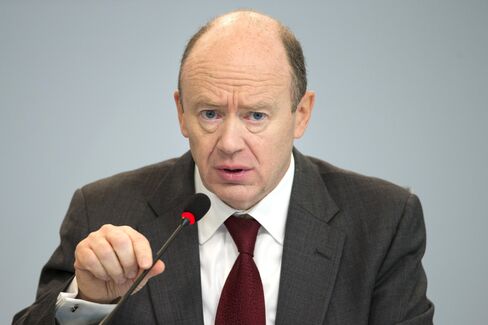 Co-Chief Executive Officer John Cryan, 55, who took over from Anshu Jain in July, is working to boost capital levels and profitability to reverse a slump that has made Deutsche Bank the worst-valued major global lender. Rising provisions for past misconduct have hurt the lender's financial strength, sapping more than the 11.5 billion euros in equity it raised from investors in 2014 and 2013.
While Deutsche Bank is seeking to award staff compensations that allows it to compete for talent with other banks, the company will be "underpaying against our international peer group" for last year, Cryan said in January. The co-CEO said last week that he expects to resolve the largest of the lender's legal cases by the second or third quarter of this year.
The shares rose 3.8 percent to 17.71 euros at 9:22 a.m. in Frankfurt after four days of declines. They have dropped about 22 percent this years.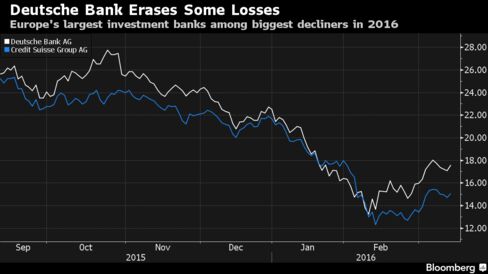 Banks including JPMorgan Chase & Co. and Citigroup Inc. have warned shareholders the industry is wrestling with a tough quarter as low interest rates, plunging commodity prices and volatile stock markets drive customers to the sidelines. Citigroup said earlier this week that first-quarter revenue from fixed-income and equity trading will probably drop 15 percent in the first quarter from a year earlier.
"The beginning of 2016 has seen volatility in the world's financial markets," Cryan and co-CEO Juergen Fitschen said in a note to shareholders. "This has impacted the banking sector. The seasonally strong first quarter might turn out to be challenging for the sector overall. Deutsche Bank is no exception to this."
Cryan said last month that the management board would not be awarded bonuses for 2015 after the bank posted a loss for the period. The 12 people who sat on the board for varying periods last year were paid a total of 22.7 million euros in salaries, of which Cryan received 1.9 million euros, according to the report. Fitschen's compensation was 3.8 million euros.
Before it's here, it's on the Bloomberg Terminal.
LEARN MORE