Buffett's Coke Ties Range From Pilot Lessons to Ice Cream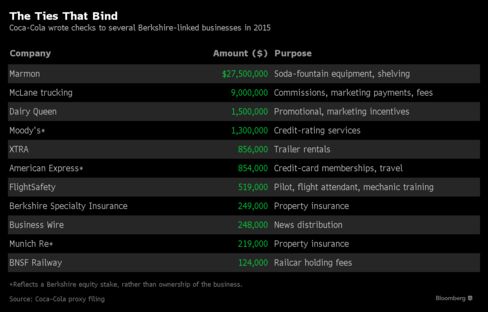 Warren Buffett's Berkshire Hathaway Inc. is the largest investor in Coca-Cola Co., and the billionaire boasts that he gets a share of the profit with every soft drink the company sells. Several businesses with ties to Berkshire also benefited from relationships with Coca-Cola last year, according to the Atlanta-based company's proxy filing Thursday. For instance, the soda giant, which operates aircraft for executive transportation, paid $519,000 to Berkshire's FlightSafety unit for pilot, flight-attendant and mechanic training. Funds go the other way too: Buffett's McLane trucking unit, which makes deliveries to restaurants and convenience stores, spent more than $200 million on fountain syrup and other products.
Before it's here, it's on the Bloomberg Terminal.
LEARN MORE