Japan Equity Returns Top Europe's for the First Time: Chart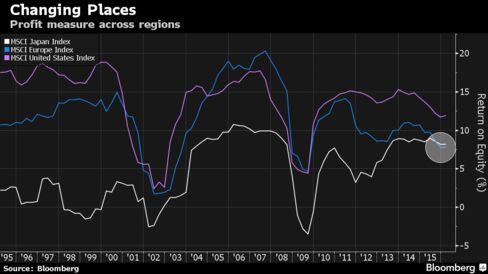 Average return on equity for companies in the MSCI Japan Index has surpassed an equivalent gauge of European stocks for the first time in data going back to 1995. Prime Minister Shinzo Abe's policy of getting companies to part with cash has increased share buybacks and boosted ROE, according to Tomohiro Okawa, Japan strategist at UBS Group AG in Tokyo, while credit tightening has lowered Europe's returns. ROE for MSCI's U.S. measure still beats both at 12 percent.
Before it's here, it's on the Bloomberg Terminal.
LEARN MORE