Irish Enter Political Limbo as Kenny Becomes Caretaker PM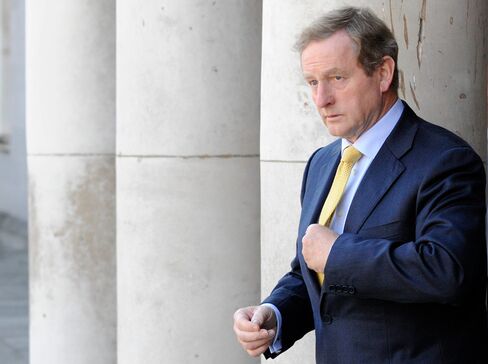 Detailed talks may now begin on forming a new government

Investors remain relaxed; economy fastest-growing in region
Irish leader Enda Kenny stepped into the role as caretaker prime minister after losing a bid in parliament for a new term, throwing the nation into political limbo.
Kenny won 57 votes in the 158-seat chamber in Dublin on Thursday, the first gathering of lawmakers since his Fine Gael-Labour coalition was routed in last month's election. Some 94 lawmakers opposed him. The vote came only hours after the national statistics office confirmed Ireland's place as the euro area's fastest-growing economy.
After formally stepping down late on Thursday, Kenny carries on his duties until a new administration is formed. No rival leader can command a majority either, meaning that Kenny remains the top contender to win a new term. His party has said it's open to talking about forming an unprecedented grand coalition with traditional enemy Fianna Fail as economic threats loom, including the possibility of the U.K. leaving the European Union.
On Friday, though, Irish newspapers reported that attitudes within Fianna Fail are hardening against such an alliance. During the campaign, both parties ruled out governing together.
"You can't expect Fianna Fail to tear up our mandate," to remove Fine Gael from power, said Billy Kelleher, the party's director of elections, said in a RTE interview on Friday. He said a minority government "could work."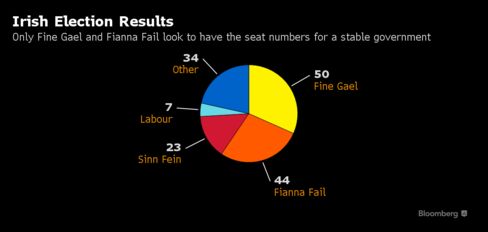 Talks will probably go on for many weeks, according to government minsters, and there are three alternative outcomes.
A grand alliance between the two parties, probably the only recipe for a stable, long-lasting government.
Fianna Fail could prop up a minority Fine Gael administration for a while, though Agriculture Minister Simon Coveney suggested last week such an arrangement could be weak, unstable and "liable to fall at any time."
If talks fail, Ireland is facing another election.

On Friday, the Irish Times said a minority Fine Gael government is the most likely outcome, while the Irish Examiner said a second election is almost certain. During the campaign, both parties ruled out governing together.


As yet, investors have remained relaxed. Ten-year Irish bonds yielded 0.92 percent on Friday, narrowing the spread between benchmark bonds and German securities of a similar maturity to 63 basis points from 83 basis points just before the Feb. 26 election.

That could change though. Finance Minister Michael Noonan has said the markets may not remain so sanguine if Ireland remains without a government for a "significant" period.

"The Brexit threat only highlights the urgency to put an Irish government in place as soon as possible, so a viable economic contingency plan can be drawn up to deal with such an adverse development," said Alan McQuaid, chief economist at Merrion Capital Group Ltd. in Dublin.




Before it's here, it's on the Bloomberg Terminal.
LEARN MORE