Denmark Cuts Its Rate Spread to ECB by Refusing to Follow Draghi
Denmark's central bank ignored an ECB cut and left its benchmark rate unchanged on Thursday in a pattern that's growing increasingly common for policy makers in Copenhagen.
The move means the difference between Danish and European Central Bank deposit rates is at its narrowest in 14 months. It also signals that the country to have endured the longest stint of negative rates may be sensing some relief on its currency peg, which was the target of a speculative attack a little over a year ago.
"The interest rate spread is the most important instrument for defending the exchange rate," said Helge Pedersen, chief economist at Nordea in Copenhagen. Thursday's developments mark a step toward the "normalization" of Denmark's monetary policy, he said.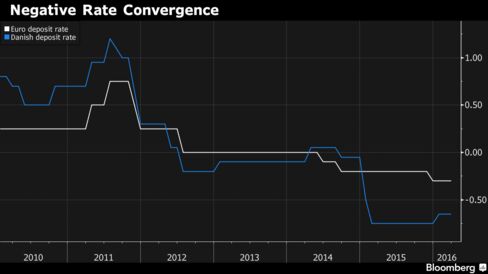 Danmarks Nationalbank left its main rate at minus 0.65 percent in a decision predicted by five of six economists. That followed a 10 basis point cut from the ECB earlier in the day, bringing the euro zone's deposit rate to minus 0.4 percent. Denmark's sole mandate is to keep the krone pegged to the euro.
"The decision to leave rates unchanged is based on the sale of foreign exchange in the market since the turn of the year," the bank said. Foreign reserves have fallen more than 40 percent since peaking in March last year as the central bank unwinds its crisis measures.
After more than 3 1/2 years of mostly negative rates, Governor Lars Rohde said at the end of last month that markets may be right to expect Denmark to keep rates below zero until as late as 2019.
The experience is making the small Scandinavian country something of a test case as more central banks across the globe opt for extreme monetary policies to rescue their economies. Rohde says the lesson is that negative rates clearly work well for central banks trying to steer currencies.
What's more, the policy hasn't crushed Denmark's financial industry. Banks recorded their best profits last year since 2008, Rohde says. But the Financial Supervisory Authority warns that the full effect of negative rates may not have fed through. Once it does, the picture may well be grimmer.
Here's a brief summary of Denmark's history with negative rates:
The deposit rate was first cut below zero in mid-2012, around about the time that ECB President Mario Draghi was getting ready to say "whatever it takes"
Denmark briefly emerged from negative rates for part of 2014, as the euro-zone debt crisis abated and demand for AAA-rated assets eased
Then all hell broke loose on Jan. 15, 2015, after the Swiss National Bank abandoned its cap on the franc. Speculators promptly turned their attention on the Danes
In quick succession, Denmark cut its deposit rate four times until it matched Switzerland's minus 0.75 percent. Rohde also raised foreign reserves until they were about 40 percent of gross domestic product and cut off the supply of krone-denominated government bonds


In the end, the Danes won and the speculators were put to shame. Rohde felt comfortable enough to try to normalize policy with a 10 basis point rate hike earlier this year. That followed a decision not to cut in December, when the ECB did.
But that may not be the end of it. Denmark has a huge current account surplus, which tends to lead to currency appreciation. Its pension industry was also shaken by the post-SNB shock and many firms now have hedges in place that imply a small risk of Denmark's euro peg collapsing.
But, as Rohde said in a recent interview:
"One should be aware, if you are trying to speculate against us, that we have unlimited access to Danish kroner. We are quite confident that we would be able to handle a new wave, if some central banks around the world go even lower. We have a lot of instruments in our toolkit and we will use them."
Before it's here, it's on the Bloomberg Terminal.
LEARN MORE