Ghana Central Bank to End Collection of Gold, Cocoa Revenues
Cocoa board raised $1.8 billion from banks for 2015-16

Bank's foreign exchange support will aim smoothen volatility
The Bank of Ghana will this year end its policy of forcing cocoa and gold-producers to surrender export proceeds to the central bank and will also allow hundreds of millions of dollars in debt raised by cocoa farmers to be handled by commercial lenders.
The moves are part of a four-step plan by the central bank to end its compulsory administration of the funds, the institution, based in the capital, Accra, said Thursday in response to e-mailed questions.
Ghana is the world's second-biggest cocoa producer and the continent's biggest gold miner after South Africa. Directing the resources to commercial banks will help deepen Ghana's foreign exchange market and reduce volatility in the exchange rate, the International Monetary Fund said in a January review of the country. The steps will also help the central bank be more effective in inflation targeting, the IMF said.
Ghana Cocoa Board, the industry regulator, arranged $1.8 billion in loans with a group of international banks to fund the purchase of the beans from farmers in the 2015-16 season. That was an increase from the $1.7 billion raised a year earlier under the syndicated loan, arranged in September each year.
The easier access to funds for the industries comes as the central bank sees monetary policy remaining tight through 2017, with inflation, currently at 18.5 percent, trending toward the target of 6 percent to 10 percent by the end of that year. The bank also said Thursday it will continue to provide foreign exchange liquidity to the market beyond 2016 "to smoothen volatilities."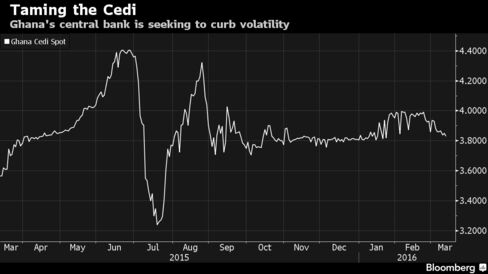 As part of its plans, the central bank will initially seek to establish a strong monitoring system to ensure export revenues are released into the market through commercial banks, and sold on a "need basis," it said.
"In our discussions, we have observed that certain preconditions must be in place before the complete elimination of the surrender requirements," Bank of Ghana said. The mandatory surrender requirement will be fully eliminated "once the foreign-exchange market is well-functioning," it said.
Before it's here, it's on the Bloomberg Terminal.
LEARN MORE