U.S. Stocks Rally With Commodities on Stimulus Bets; Bonds Fall
S&P 500 rises to highest level of 2016, tops 200-day average

Crude caps fourth weekly gain, emerging shares surge
Riskier assets from stocks to commodities and emerging-market currencies surged as traders warmed to an unprecedented policy boost from the European Central Bank.
QuickTake Europe's QE Quandary
The Standard & Poor's 500 Index capped a fourth weekly gain and closed at the highest level of the year. European equities rallied, while developing-nation shares erased losses for 2016. Credit markets jumped and oil led commodities to a three-month high, while Treasuries fell for a third week on speculation U.S. rates will rise this year.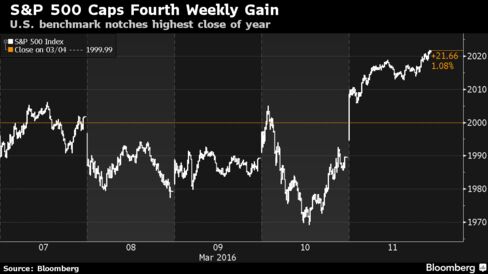 Stocks and commodities continued a rebound from steep losses at the start of the year, with American equities cutting losses to less than 1.5 percent after falling to a 22-month low a month ago. Investor sentiment in the aftermath of the ECB's announcements, swinging from optimism the stimulus could boost growth to concern the measures would fall short, illustrates the tension in markets and challenges central banks face in mollifying them after seven years of unconventional policy maneuvers.
The ECB's stimulus comes amid growing confidence that the U.S. economy has averted any threat of recession that's boosted bets the Federal Reserve will stay on course for tighter policy, while China's leaders have eased concern over their handling of the world's second-largest economy. The Fed, Bank of Japan and Bank of England are all set to meet next week.
"Since the Feb. 11 lows in the equity market, global recessionary fears have receded, and that has been key," Joe Quinlan, chief market strategists at U.S. Trust, Bank of America Private Wealth Management, said by phone. "What the ECB did yesterday helped that momentum and that train of thought become more ingrained, that they will do whatever it takes and then some for global economic expansions."
Stocks
The S&P 500 climbed 1.6 percent to 2,022.07 at 4 p.m. in New York, erasing a loss for the week and closing at the highest level since Dec. 31. The index has trimmed a loss in 2016 to 1.1 percent. The gauge's close above its 200-day moving average ended the longest run below that technical level since 2011. Banks, energy and technology shares, which have paced the rebound in equities since mid-February, led gains on Friday.
While traders are pricing in little chance of a Fed increase on March 16, they have boosted the odds for later in the year. The probability of a June move is now 51 percent, from less than 2 percent a month ago, data compiled by Bloomberg show.
The Stoxx 600 rose to a six-week high, boosted by gains in financial firms and automakers. On Thursday, after an initial surge when the ECB announced it lowered its key interest rates and expanded its bond-buying program, the gauge erased all of its increase when Draghi said he didn't anticipate further rate cuts. Germany's DAX Index, among the most hurt in this year's selloff, jumped the most since August on Friday.
Gains in stocks weren't limited to Europe as the MSCI Asia Pacific Index added 0.8 percent.
Bonds
Benchmark 10-year Treasury note yields rose four basis points, or 0.04 percentage point, to 1.98 percent, according to Bloomberg Bond Trader data, the highest on an intraday basis since Jan. 29.
Euro-area government bonds gained as the dust settled on the ECB's latest stimulus measures. Italian, Spanish and Portuguese securities led the advance, outperforming their higher-rated peers.
Currencies
The currencies of commodity exporters advanced as China's central bank strengthened the yuan's fixing by the most in four months, spurring demand for higher-yielding assets at the expense of those viewed as havens.
The pound advanced the most in more than a month against the euro as the European Central Bank's expansion of monetary stimulus moved its policy further from that of the Bank of England.
In China, the yuan strengthened as much as 0.32 percent versus the greenback, briefly erasing its loss for the year, after the People's Bank of China strengthened its daily reference rate by 0.34 percent.
Commodities
The Bloomberg Commodity Index, which measures returns on raw materials, advanced 0.7 percent to a three-month high, led by advances in oil.
Crude capped the longest run of weekly gains since May amid signs of rising U.S. fuel demand and easing crude production. West Texas Intermediate for April delivery added 1.7 percent to settle at $38.50 a barrel.
The stepchild of the commodities world is finally getting investors' attention.
Agriculture prices are heading for the longest rally in four years, as adverse weather and rising demand finally help to reduce the outlook for global gluts of food supplies.
Emerging Markets
Emerging-market stocks and currencies extended their second week of gains and bonds rallied as oil's rebound above $40 a barrel and European stimulus boosted demand for riskier assets.
Emerging stocks climbed 1.5 percent to erase losses for the year, extending a second weekly gain. A gauge of developing-nation currencies climbed to a three-month high as China strengthened the yuan's fixing, spurring a surge in the onshore currency.
Russia's ruble, and South Africa's rand each jumped at least 1 percent as oil's advance boosted sentiment toward commodity exporters. Brazil's real strengthened for a fourth day and the Ibovespa advanced amid mounting speculation that there will be a change in government.
Before it's here, it's on the Bloomberg Terminal.
LEARN MORE