United CEO Survives Heart Transplant to Find Board Fight Waiting
Munoz set to return as activist investors wage proxy challenge

PAR, Altimeter said to want industry icon Bethune as chairman
As if a heart transplant weren't enough to cope with, the chief of United Continental Holdings Inc. now must keep a looming battle over his board from disrupting plans to turn around the worst-performing major U.S. airline.
Chief Executive Officer Oscar Munoz on Tuesday got a harsh critique from two activist investors, PAR Capital Management Inc. and Altimeter Capital Management LP, who called the company's board "under-qualified" and "ineffective" in a letter to United's chairman. They will nominate six new directors to the airline's board, including Gordon Bethune, an industry icon credited with turning around Continental Airlines after bankruptcy.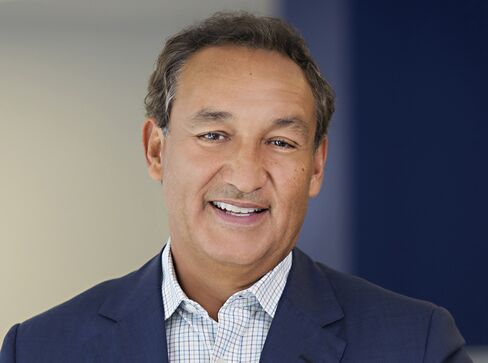 While they didn't single out Munoz for criticism -- he took over in September and has been mostly on sick leave since -- the 57-year-old CEO will have to balance the boardroom drama with making sure the planes run on time. He's enjoyed some early momentum, with United improving its historically weak on-time arrival rates and striking key labor deals. Vicki Bryan, a debt analyst with Gimme Credit, said in a research note that she thinks a shake-up was overdue.
"United needs a leader the world can identify with," Bryan said in a follow-up interview. "Oscar Munoz might be that guy, but Gordon Bethune is that guy."
Rough Return
Munoz got a rude welcome back on Tuesday almost five months of medical leave. The former CSX Corp. executive was named CEO in September, only to suffer a heart attack a month later. By early January, he was undergoing heart transplant surgery, and many wondered if he would return at all. However, he recovered quickly and within weeks began attending investor conference calls and popping in on employee groups. This past weekend, the airline announced he would return full-time on March 14.
Behind the scenes, the activists were pressuring United for sweeping changes.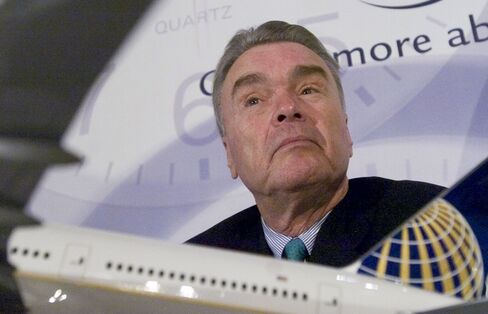 Talks broke down in recent days after PAR and Altimeter issued an ultimatum that the company place all its nominees on the board slate and make Bethune chairman, according to two people familiar with the discussions. Also, the investors declined to let United's board interview the candidates and potentially extend the nominating deadline to vet their suitability, United non-executive Chairman Henry Meyer III said in a release.
'Desperate' Move
United began searching for new directors last year and temporarily suspended that effort during the CEO's illness, people familiar with the discussions said. The search resumed once it became clear that Munoz would return, said the people, who requested anonymity because the talks were private.
United announced on Monday that it had placed three new independent directors on its board and would soon announce a fourth. The three announced so far are a former chief executive of T. Rowe Price Group Inc. and two former airline executives.
PAR and Altimeter called the moves "desperate."
"When exactly did you determine that the board was so inadequate as to need four new directors, all at once, and without an annual meeting or a stockholder vote?" the investors wrote in a letter to Meyer.
Chairman Only
The activists were adamant that Bethune, 74, join as chairman, according to the people familiar with discussions. Bethune told Bloomberg on Tuesday that he would join the board only if given that position.
"He's a wonderful man," Bethune said of Munoz. "But he's never run a company before, never run an airline. I told him: 'Oscar, you need help.' Step one is go out and meet every employee because they've been neglected for years."
PAR and Altimeter now are likely to contact other United investors to build support for their slate, said Mo Garfinkle, an airline consultant who has advised investors. Such an aggressive stance is unusual for the two firms, which are known as being long-term airline investors, he said.
"It's going to be Republican Party-ish," Garfinkle said of the coming proxy battle, referring to the contentious U.S. presidential primary.
Bad Timing
Labor groups representing United's flight attendants and ground workers on Tuesday supported Munoz and expressed concern that a board battle could sap some of United's momentum. In recent months, the carrier has consistently been in the top half of U.S. airlines in on-time arrival rates, after a long stretch near the bottom of the pack. Also, it recently struck a contract extension with its pilots, with whom United has historically clashed.
"It's just poorly timed," Sara Nelson, international president of the Association of Flight Attendants, said of the activist moves. "If their intent is to fix the problems at United Airlines, this is not the way to go about it."
One analyst, Joe DeNardi of Stifel Nicolaus & Co., said it's curious why PAR and Altimeter chose now to act, when the company has seen some improvement in operations. He wondered if United's recent announcement that it would boost its capital expenses frustrated investors, who might prefer that the company send its free cash flow back to them.
"This is not a shareholder group that's typically highly activist and are trying to be in the limelight, so I have a sense they are really interested in doing what they say, not coming in and taking over the company," said Bryan, the debt analyst. "United's investors have suffered in silence long enough."
Before it's here, it's on the Bloomberg Terminal.
LEARN MORE