OPEC States Tighten Their Belts After Oil Rout, in Theory: Chart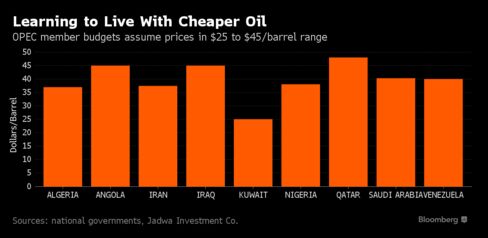 Members of the Organization of Petroleum Exporting Countries are tightening their belts as they learn to live in an era of cheaper oil -- at least, in theory. Having enjoyed several years of prices above $100 a barrel, their budgets for this year assume oil will range from $25 a barrel (Kuwait) to $45 (Iraq, Angola), in line with current levels after crude's 76 percent plunge. Whether countries stick to these austere intentions is another story: Deutsche Bank AG says that to cover the amounts they'll actually spend, members like Iran and Nigeria will need a price closer to $80.
Before it's here, it's on the Bloomberg Terminal.
LEARN MORE