One Year On, German Bonds Are Biggest Winner Under ECB QE: Chart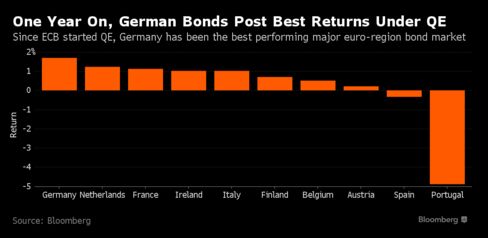 Since the European Central Bank started buying sovereign debt a year ago, German bonds have been the best performer among the 10 biggest eligible euro-region markets. With the returns normalized from the start of the program on March 9, 2015, German securities have gained 1.7 percent, while Portugal, which some analysts predicted would be the biggest winner under quantitative easing, has seen its debt lose 4.9 percent. The ECB is already buying 60 billion euros ($66 billion) of debt a month and the majority of economists are forecasting the pace will increase on Thursday.
Before it's here, it's on the Bloomberg Terminal.
LEARN MORE