Metals Rally From Biggest Drop in Seven Months as Equities Gain
Copper futures gain after falling the most in two months

Glencore recovers from bigest decline since September
Copper and other industrial metals rebounded from the biggest drop since August and Glencore Plc rallied as speculation that central banks will take further steps to bolster their economies helped push global equities higher.
European shares advanced and U.S. stocks headed toward the eighth straight year of a bull run amid bets that additional stimulus will bolster sluggish growth. Copper, nickel and other metals slid along with mining stocks on Tuesday after trade data in China, the world's biggest buyer, fueled concerns that demand will weaken.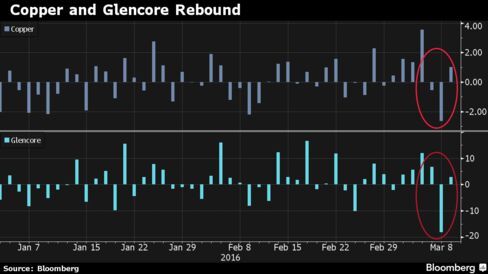 "The risk appetite is a little stronger today, equities markets are back up, and I think the entire space is moving together here," Tim Evans, the chief market strategist at Long Leaf Trading Group Inc. in Chicago, said in a telephone interview. "Copper is tied to investment activity through construction and the like, so copper is going to mirror the market due to its industrial component."
Copper futures for May delivery gained 0.5 percent to settle at $2.2325 a pound at 1:16 p.m. on the Comex in New York.
The London Metal Exchange LMEX Metals Index, which tracks the six main metals traded on the bourse, dropped 3 percent on Tuesday, the biggest loss since August.
The LME gauge has recovered from a six-year low set in January on expectations that Chinese policy makers will do more to bolster growth and on speculation that the Federal Reserve will keep rates low for longer. Mining stocks have also recovered this year, after a slide in metals prices in 2015 sent shares tumbling and prompted some of the biggest producers to cut output.
Glencore, which tumbled 18 percent on Tuesday in the biggest drop since September, advanced 2.5 percent in London on Wednesday. Phoenix-based Freeport-McMoRan Inc., the largest publicly traded copper producer, climbed 5.8 percent at 2:45 p.m. in New York.
Aluminum, copper, zinc, nickel, lead and tin climbed on the LME.
Before it's here, it's on the Bloomberg Terminal.
LEARN MORE