Japan Stocks Drops as Exporters Slump on Global Growth Concerns
Topix down 3.1% over three days following three-week rally

Shippers, banks pace declines among groups as yen strengthens
Japanese shares fell, with the Topix index posting its biggest drop in almost three weeks, as exporters retreated after the yen gained on reignited concern about global growth.
The Topix slumped 1.1 percent to 1,332.33 at the close of trading in Tokyo. All but two of 33 industry groups slid. The gauge has lost 3.1 percent over three days, following a 15 percent rally over the previous three weeks. The Nikkei 225 Stock Average lost 0.8 percent to 16,642.20. The yen traded at 112.58 per dollar after rising 0.7 percent on Tuesday. The Standard & Poor's 500 Index slipped 1.1 percent on Tuesday after China reported the biggest tumble in exports in almost six years and data showed Japan's economy shrank last quarter.
"China trade data has become the seismic center for concerns over the global economy," said Chihiro Ohta, general manager of investment information at SMBC Nikko Securities Inc. in Tokyo. Investors "had hopes for fiscal policy because of the bad data, but policy expectations don't have the kind of power to create a strong rebound."
Shippers led losses among the Topix's industry groups, while carmakers and electric-appliance manufacturers were among the biggest drags. Banks also fell, with Mitsubishi UFJ Financial Group Inc. slumping 2.6 percent. Asahi Kasei Corp. declined 5.9 percent after the chemical and real-estate company announced February home orders dropped 11 percent from a year earlier. Toho Zinc Co. retreated the most on the Nikkei 225 as commodity prices slid.
A gauge tracking telecom stocks rose the most among the Topix sectors, followed by fishing and agricultural shares. Dentsu Inc. rose 2.8 percent after JPMorgan Chase & Co. raised its rating on the advertising firm.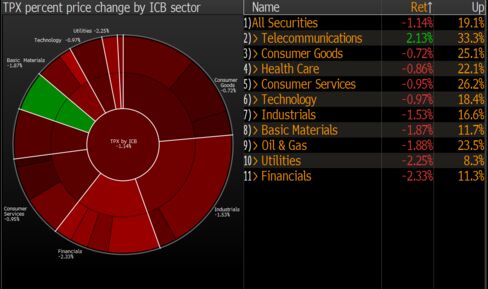 Futures on the S&P 500 climbed 0.2 percent. The underlying equity gauge fell the most in two weeks on Tuesday as commodity companies and banks, pillars of the market's recent gains, paced declines.
After a three-week rally in global equities, a sense of uncertainty seems to be returning to markets after data reinforced Japan's economy dropped in the fourth quarter and showed a sustained drop-off in trade for China. West Texas Intermediate crude lost 3.7 percent on Tuesday and copper fell by the most since November in London. The yen gained yesterday to its strongest level in two weeks. Volume on the Topix was 19 percent below the 30-day average on Wednesday.
Global Risk
"When the yen is like this, it's difficult for mindsets to improve within corporations," said Hitoshi Asaoka, a Tokyo-based senior strategist at Mizuho Trust & Banking Co. "There's a strong sense of deadlock in Japan."
Risks have increased with fresh concerns about the health of the global economy, International Monetary Fund First Deputy Managing Director David Lipton said during a speech at a conference in Washington. The world economy needs a three-part plan to bolster growth, including monetary, fiscal and structural policies, he said.
"We saw a rebound in the global stock market, but I get the impression that this rebound phase ended last week," said Kazuhiro Miyake, chief strategist at Daiwa Securities Co. in Tokyo. "For Japanese stocks to go higher, we need the yen to weaken."
Before it's here, it's on the Bloomberg Terminal.
LEARN MORE